November 20, 2023
Reading Time:
4
min
Axion Trade Review: Do Not Fall for This Broker's Tricks and Tactics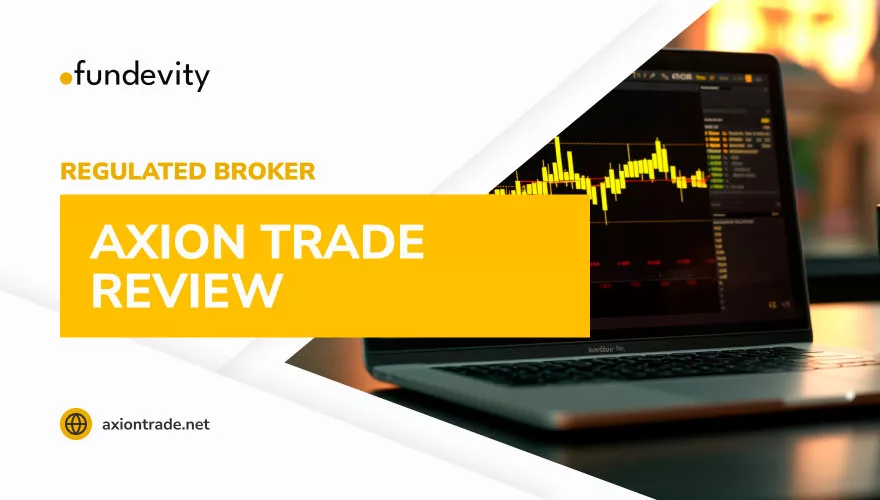 If you are only getting into trading, brokers like Axion Trade might seem super confusing. On the one hand, they seem to be legit, but they also have some features that make you doubt that. But worry not!
This Axion Trade review will resolve all the issues, and you can see this broker for what it truly is – a scammer.
General information
Name:

Axion Trade Limited

Regulation status:

Regulated – ASIC

Warnings from Financial Regulators:

CNMV, CONSOB

Website link:

axiontrade.net

Active since:

2020

Registered in:

Australia, SVG

Contact info:

Email:

[email protected]

 

Trading platforms:

MT4, MT5, Axion Mirror

The majority of clients are from:

Cambodia

Singapore

Malaysia 

Indonesia 

Thailand 

Customer support:

Yes (live chat)

Compensation fund:

No
Regulation Info
The Axion Trade regulation situation is the most confusing thing about this broker. They claim to have a license from ASIC, and after a bit of research, the regulation checks out. They are also partners with another entity – Pelican Exchange Limited – that is regulated by the FCA, which is great. So what's the catch?
Well, the broker also has a branch in St. Vincent and the Grenadines, which is always a major red flag. This country does not regulate the Forex market, allowing brokers to do whatever they want with traders' money. This is why those brokers are extremely dangerous, but what about that Australian regulation?
The Australian office has to abide by the ASIC rules, which come with all sorts of protections for traders. This includes low minimum deposits, negative balance protection, and much more. And if you deal with this branch, your money will be safe.
However, you cannot bet on that. The broker can transfer you to the SVG side, and when they do, all those protections disappear into thin air. From that point on, you are at the broker's mercy, and that can only end in huge losses.
Axion Trade Warnings
Regulators not only police the brokers, but they can also put out warnings against them, which guarantee brokers are not safe for business. Unfortunately for Axion Trade, both the CNMV and CONSOB discourage people from trading with the broker, and we could not agree more. For the sake of your money, avoid Axion Trade.
Axion Trade Profile
The trading conditions at Axion Trade are great, but that was expected, considering their ASIC license. Let's start with the trading platforms, where we have Axion Trade MT4 and MT5 at our disposal. This is great news for traders as there are no better platforms than these due to their advanced tools that are easy to use.
Additionally, the broker has an Axion Mirror platform that they developed together with Pelican Trading. This software enables traders to participate in copy trading, which can be beneficial to beginners, as they can copy the trading styles of proven traders.
Moving on to Axion Trade account types, we have two groups. On the one hand, you have the ECN types, which include:
Standard

Pro

Institutional
On the other side of the bracket, there are classic types, where you have:
Zero commission

Mini

Nano

Axion Trade Islamic account
The minimum deposit is just $1, which is in line with the industry's best practices, and there is also a demo account. The leverage is a bit high, however, at 1:500, and you can use it for Axion Trade Forex, commodities, index, and stock trading. And for those of you wondering, there is no Axion Trade deposit bonus.
Is This Broker Safe?
We would not bet our money on it. Whenever we see a broker with an offshore office, we do not feel safe investing with them. Take NuxTrade, for example. They also have an SVG office, and many people have been scammed out of their money because of that. Yes, they have other legitimate licenses, but you can never be certain the broker will not transfer you to the dark side and put you in danger.
Trader Reviews – Sharing Experiences
Sadly for us, we found almost no trader reviews online, which is also a sign of a shady business. Legitimate brokers will be registered on Trustpilot, and many people will be commenting on their experience with said broker.
Now, this is a great example of why the broker is dangerous. There is a thin line between the good and the bad. And a broker with an SVG branch can be extremely bad if you're not careful.
How Does the Axion Trade Platform Reach Clients, and Who Are They?
There are very few reviews that could tell us about how this broker reaches its victims, but we would not be surprised if they contacted traders directly. This is typical fishy behavior, and you should not engage with a broker that reaches out in any way.
Between the lack of reviews and their office locations, we would say Axion Trade mostly targets traders in Cambodia, Singapore, Malaysia, Indonesia, and Thailand, so be careful if you live in those areas.
Deposits and Withdrawal Methods
Another bad sign pointing to a malicious business practice is that this broker only accepts crypto payments. Companies like Axion Trade and AxianceFX love those because they allow them to remain anonymous, and it is extremely hard for people to get their money back. Legitimate brokers would have other methods like wire and credit card transfers and various e-wallets.
Moreover, we could not find an Axion Trade withdrawal policy, meaning we do not know if there are any Axion Trade fees.
Reasons To Avoid This Company
There are several reasons to avoid the company, none bigger than its offshore branch. There is no way they can guarantee you any safety, which makes investing with them an extremely bad idea! They do have another license, and their conditions with the Axion Trade MetaTrader5 and low minimum deposits are great, but that does not make up for the fact they also operate from SVG.
You can learn from Demaxis's example how to deal with an offshore broker. If you read about them, you will see that no one had a great time trading with them, and neither will you if you give Axion Trade your money.
Long Story Short – Axion Trade
As we bring this Axion Trade review to an end, we hope you realize the dangers of trading with this broker. You would be doing yourself a disservice by giving them your money, so it is best to find a better broker and we are here for you! 
Reach out today, and we will go through all your needs and skills to decide who the best broker for you is!
FAQ Section
Is Axion Trade legit?
No, it is not. They operate from SVG and you can never trust brokers from that area due to the lack of regulatory oversight.
What Are The Axion Trade Platforms?
It has three platforms. The first two are MT4 and MT5, which are the industry standard platforms. The third one is an app for copy trading called Axion Mirror.
What Is Minimum Deposit with Axion Trade?
The minimum deposit at Axion Trade is $1, which is in line with the industry's best practices.