October 02, 2023
Reading Time:
4
min
BelmanStar Review: The Broker's Outrageous Secrets Exposed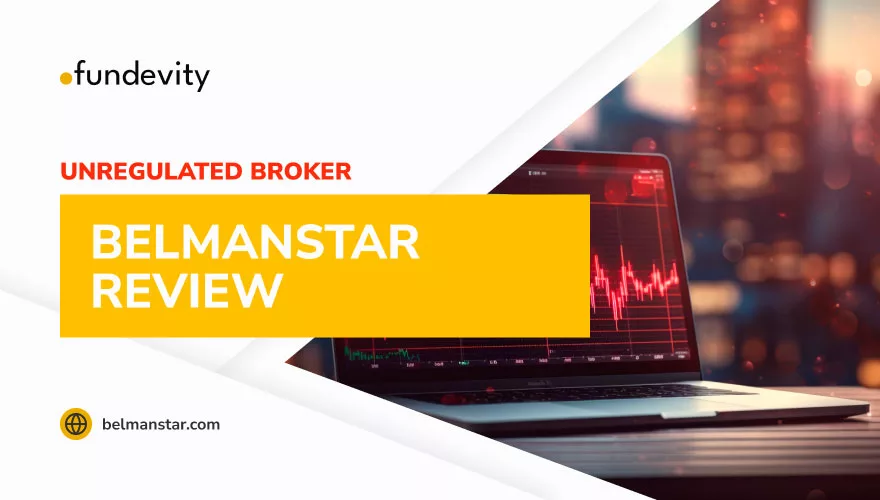 You may know by now that the choice of a reliable broker is paramount. There are countless options out there, but how can you be sure that your chosen broker is trustworthy, regulated, and genuinely interested in helping you succeed in the financial markets? 
Belman Star is a name that has caught our attention, but it raises many questions. Is this company regulated? Could you be scammed? We've undertaken an in-depth analysis to address these concerns in our BelmanStar review.
General information
Name:

Belman Star

Regulation status:

Unregulated Broker Scam

Warnings from Financial Regulators:

No official warnings

Website link:

belmanstar.com

Active since

2023

Registered in

Scotland (Allegedly) 

Contact info:

Data is hidden 

Trading platforms:

n/a

The majority of clients are 

Sweden

United Kingdom 

Finland 

Italy 

Norway 

Customer support:

n/a

Compensation fund:

No
Belman Star Company Details and Regulation
One of the first things we looked into was the company behind Belman Star. 
Sadly, we couldn't find much information regarding this broker. The only detail we could track down is their address in Scotland. 
However, their website appears to be problematic, showing errors when accessed. This lack of transparency and tech issues are concerning and raise red flags about the legitimacy of this broker.
Why Regulation Matters
Regulation is a critical aspect of choosing a FX business. It guarantees that the company operates within a set of strict guidelines and offers a level of protection to traders. So, is BelmanStar legit?
In the case of this corporation, the lack of transparency and site issues make it difficult to determine their regulatory status. That is why we strongly advise trading only with Tier 1 regulated and reputable firms. For instance, go for those regulated by ASIC, FCA, CySEC, and others. These organizations provide oversight and guarantee that brokers meet rigorous standards, giving you security.
Trading Assets They Include (Or Not)
Unfortunately, belmanstar.com provides no info about the trading assets they offer. 
Due to the technical problems on their site and the absence of credible reviews, details about the trading instruments they support remain unknown. 
Still, reputable brokers typically allow us to access a wide variety of assets, including FX, commodities, metals, stocks, ETFs, bonds, options, and crypto, ensuring a diverse trading experience.
Note: BTCADA Global filled their website with false promises, but in reality, they have no credibility.
Belman Star Trading Platforms
Belman Star's lack of transparency extends to the trading platforms. Their website offers no information on this crucial aspect. 
Consequently, we recommend considering MetaTrader 4 (MT4) and MetaTrader 5 (MT5) when choosing a broker. These platforms are widely recognized and trusted in the industry. MT5, for instance, has a 4.5-star rating based on over 403,000 reviews and more than 10 million downloads on Google Play. These platforms are preferred by roughly 80% of retail traders due to their amazing interfaces and advanced features.
MT4 and MT5 offer a host of benefits, including a broad range of technical indicators, charts, and extensive back-testing capabilities. 
Trading Environment and More Risks
We also must think about the trading conditions they offer. Unfortunately, this brokerage provides no information about spreads or leverage. You already know that their site is broken and there are no reviews from traders on this. 
Leverage, in particular, can be problematic. While it can magnify profits, it also increases the risk of big losses. The EU and UK have set a leverage cap of 1:30 to protect traders from too much risk. It's advisable to avoid brokers that offer high leverage ratios, as it can lead to huge losses.
After all, suspicious brokers like Belman Star and InsideOption should be approached with caution. Also, people should seek reputable brokers with Tier 1 regulations to be on the safe side.
The Website and Customer Support Team
Belman Star's website issues are a clear red flag. Technical problems and errors make it difficult for us to gather essential information. We found it outrageous. 
While we did find an email address from other reviews, the reliability of their support remains shaky. This lack of transparency is a concerning aspect of their service.
Note: Keep in mind that CGFX.com, a fake investment platform, promises effortless passive income but delivers nothing but scams.
Withdrawal Rules
Belman Star's website's lack of information extends to their withdrawal policy. This raises more concerns about the trustworthiness of this broker. 
Legitimate brokers typically offer various payment methods. These often are Skrill, PayPal, bank transfers, credit cards, and cryptocurrencies. So, this lack of transparency further solidifies our opinion about their services.
Trader Reviews on Trustpilot
When choosing a broker, it's best to consider the experiences of other traders. Still, this shady company lacks any Trustpilot reviews or reviews on other legitimate websites. 
This lack of feedback makes it challenging to see the experiences of their clients, and it's a significant disadvantage for potential traders. We recommend choosing companies with positive reviews and ratings of 4.5 stars or higher to get a more secure trading environment.
Offshore Broker and Suspicious Signal Tactics
It's crucial to be aware of offshore broker tactics and common scams in the trading industry. 
Scam brokers often charge excessive fees, create fake websites, and use shady tactics. Keep that in mind. Besides, traders should be mindful when dealing with suspicious FX signals and EAs (Expert Advisors). These can lead to significant financial losses.
Some common examples of broker scams include:
Hidden fees

Unreliable trading platforms

Lack of transparency

Promises of utopian profits

Pushy sales tactics
It's essential to go for brokers with transparent rules and proven track records to avoid such scams.
Can I Make Money From Online Trading?
Online trading can indeed help you earn decent amounts of money. Still, it requires knowledge and the right tools. 
That's why we offer free consultations to help you make the best possible decisions. We've also created an AI Analysis Bot designed to assist traders in making better choices based on advanced predictions. With our AI Analysis Bot, you will have numerous benefits. You will get access to FX and stock analysis reports to improve your trading experience.
Final Words
As you can see, Belman Star raises several red flags, including website issues, lack of clarity, and regulatory problems. We strongly advise you to avoid this anonymous and potentially unreliable broker. Instead, think about brokers with Tier 1 regulations and positive reviews to enjoy safe buying and selling.
If you're uncertain about choosing the best trading company or have questions about online trading, feel free to contact us for free consultations. We're here to help you explore the world of online trading and gain knowledge. Your financial success is our priority.
FAQs
What Is Belmanstar?
Belmanstar is a trading firm, but its legitimacy is unclear due to limited information.
Is belmanstar.com Legit?
Belmanstar.com's legitimacy is shaky because of its broken website and regulatory problems.
What is Belmanstar's Withdrawal Policy?
Belmanstar's withdrawal policy is unknown.