September 12, 2023
Reading Time:
4
min
BTCADA Review: Stay Away from This Dubious Dealer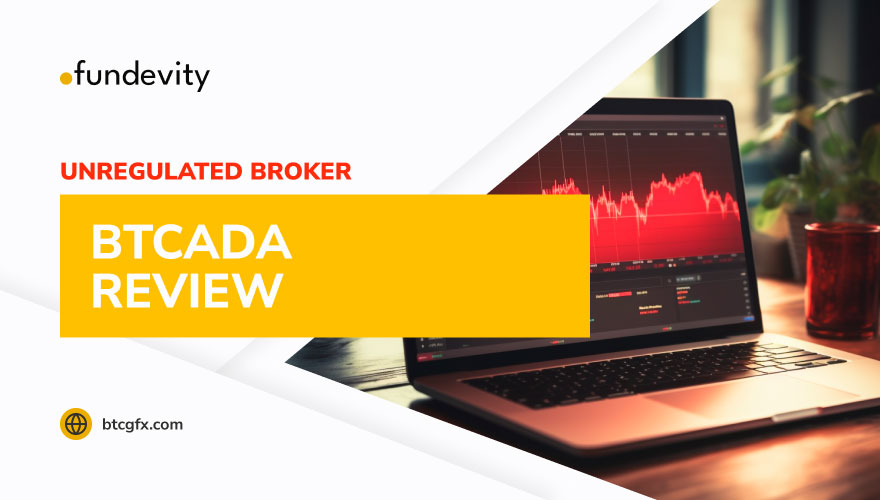 To start trading, you want a partner who's honest, reliable, and, above all, legitimate. Yet, not all brokers meet these standards, and one such controversial figure is BTCADA. 
In this BTCADA review, we'll analyze BTCADA's legitimacy, account options, fees, and tactics that have earned it a questionable reputation. So, is BTCADA legit or a scam? Join us as we peel back the layers and find the truth about BTCADA Global.
General information
Name:

BTCADA Global Limited

Regulation status:

Unregulated Broker Scam

Warnings from Financial Regulators:

CNMV, Danish FSA, and Fi Estonia

Website link:

www.btcgfx.com

Active since

2020

Registered in

n/a

Contact info:

Data is hidden 

Trading platforms:

MetaTrader 5

The majority of clients are from

Turkiye

United States

Germany 

Poland 

Spain 

Customer support:

n/a

Compensation fund:

No
BTCADA Legitimacy: Is BTCADA Global Reliable?
BTCADA Global isn't legit at all. They claim to be operated by BTCADA Global Limited, but finding real info about this company is super hard. No address or contact number is a big issue. 
They say they're licensed by the US National Futures Association (NFA), FINTRAC in Canada, and show the Australian Securities and Exchanges Commission (ASIC) logo. But none of this is true. They're not licensed in the USA, Canada, or Australia. They're just trying to trick investors. All in all, it's best to avoid them and go for a real broker.
Beware: Keep your money safe by not using unregulated brokers like Tenx Prime.
Warnings
Let's get straight to the point! We already saw that BTCADA is a phony Forex, CFD, and crypto broker. Still, let's talk about warnings! 
Regulatory bodies like the Spanish regulator CNMV, Danish FSA, and Fi Estonia have issued severe warnings. It's not just a red flag, it's clearly a blaring siren of caution.
Trading Assets Available: Shady Options
Now, when it comes to BTCADA's trading assets, things are a bit fuzzy. Their website is about as reliable as a sieve in a rainstorm. Nevertheless, from our research, we've seen that this dubious broker used to offer trading in FX, stocks, commodities, and indices. 
However, please note that we can't verify this anymore because, well, their fake website isn't functioning.
We strongly recommend you think about regulated brokers that offer a wider range of assets. Most importantly, choose those you can trust.
Trading Platforms on Offer
Surprisingly, BTCADA Global does provide a functional MetaTrader 5 (MT5). But it's a case of "too little, too late" because having a fake MT4 or MT5 platform is a significant drawback. Authentic MT4 and MT5 platforms are the go-to choices for FX traders, preferred by nearly 80% of users. 
The genuine MT4 platform offers advanced charting tools, numerous indicators, and robust back-testing conditions, among other features. However, remember that the BTCADA scam has a broken and shady website. It has nothing to do with these offerings that the real MT4 has. 
Reminder: Avoid fake brokers like Cryptoalgorithm Net to protect your finances and make the most of your trading journey.
Trading Environment: What You Should Know
BTCADA Global promotes solid trading conditions, with claims of spreads starting from 2.2 pips on major currency pairs. Still, our investigation reveals a fixed EUR/USD trade cost of 3 pips on their demo MT5, which isn't competitive, especially given their credibility issues. 
They also have a leverage of 1:200, which may seem solid. However, it exceeds what most financial regulators see as appropriate. This goes without saying. High leverage can be a double-edged sword, providing access to markets but also great risk. If not managed properly, it can lead to swift and big losses. That's why the EU and UK have imposed a leverage cap of 1:30 for regulated brokers – to protect traders from excessive risk.
We strongly recommend avoiding brokers involved in questionable practices and opting for those with Tier 1 regulations for safer trading overall.
Account Types: What's Available?
BTCADA Global Limited presents traders with three account types – ECN Account, VIP Account, and Standard Account. Here's a breakdown of each:
ECN Account.

To access this account, a big deposit of $50,000 is required. It offers a maximum leverage of 200:1 and spreads ranging from 0 to 0.3. Yet, crucial details about products, supported currencies, and more remain unknown.

VIP Account

. The VIP Account demands a minimum deposit of $20,000. There's leverage of 200:1 and spreads ranging from 1.2 to 1.8. Similar to the ECN Account, many essential details are missing.

Standard Account.

The most basic account requires a minimum deposit of $7,000. It offers a maximum leverage of 200:1 and spreads ranging from 2.2 to 2.8. As with the other account types, other vital info is absent.
The $7,000 minimum deposit requirement for their most basic account is unreasonably high.
Withdrawal Policy: What Are the Options?
Despite their website troubles, BTCADA claims to accept bank transfers, BPAY, Skrill, and card payments. For added safety, it's better to stick with bank card transfers when dealing with any broker. 
We advise trading with brokers that provide clear payment options like PayPal, Skrill, Google Pay, Advcash, and bank cards. These options give us a smooth and hassle-free experience.
Reviews on Trustpilot: The Missing Pieces
Surprisingly, BTCADA has no reviews on Trustpilot, which is cause for concern. Yet, negative feedback on Twitter and various forums paints a less optimistic picture. 
It's wise to proceed with caution and opt for brokers with solid reputations, with ratings of 4.5 stars or higher.
Note: Anonymous brokers, such as BTCADA and ZH1, often resort to tactics involving false claims and a lack of clarity. It's best to avoid companies that raise these red flags.
Can You Profit from Online Trading?
Now, let's switch gears. If you're aiming to make money through online trading, remember that knowledge is your greatest asset. We provide free consultations just for you! Also, we have introduced a state-of-the-art AI Analysis Bot to simplify your research. 
Making profits in the markets is achievable. Yet, it demands education, strategy, and, most importantly, trading with loyal partners.
FAQs
Is BTCADA Regulated?
No. This company is not regulated and has received warnings.
Is My Money Safe With BTCADA?
No. Your money is not safe with this scam company.
How Long Does It Take To Withdraw Money From Btcgfx.com?
You may never see the funds you aimed to withdraw.