September 01, 2023
Reading Time:
6
min
Bex500 Review: Discovering the Deceit Behind Bex500.com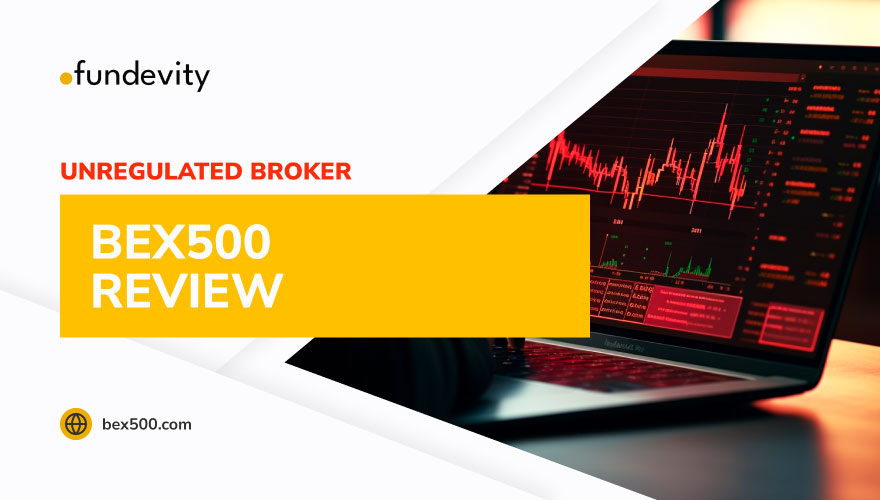 Welcome to our in-depth review of Bex500, where we'll shed light on this intriguing crypto exchange. Bex500 is not your typical crypto trading platform. It is a cross-asset exchange, offering a broader range of assets beyond cryptocurrencies. 
Besides digital currencies like Bitcoin and Ethereum, Bex500 enables trading in Gold, Silver, Oil, and a plethora of Forex pairs. One highlight is its remarkably low fees for trading and withdrawals. However, a significant concern lingers – Bex500 lacks valid regulation. In this Bex500 review, we'll delve into various aspects of Bex500, highlighting its legitimacy, assets, platforms, and more, all while keeping a watchful eye on potential red flags.
Bex500 Legitimacy: Separating Fact From Fiction
When it comes to any online trading platform, legitimacy is vital. Unfortunately, Bex500 raises a few red flags in this department. 
Firstly, it operates without the oversight of a financial watchdog, leaving the platform to run its operations without any regulatory checks and balances. The Bank of Russia has even issued a warning against Bex500, highlighting the potential risks.
One glaring issue is the lack of transparency about its regulatory status. Bex500 fails to disclose pertinent information about its compliance with financial regulations. Besides, it engages with press release companies to promote what appear to be fraudulent schemes. This truly casts a shadow over its credibility. The platform's anonymity further compounds these concerns.
Bex500's use of bonuses may also be a cause for worry. Deposits made by users may not find their way into their accounts, instead being transferred to offshore accounts. Also, the absence of a genuine investment framework and vague claims only add to the skepticism. Without proper fund segregation or oversight by a parent company, investors' funds in Bex500 are exposed and unprotected.
In contrast, we always recommend dealing with investment firms that operate within the bounds of the law, just like JFD Brokers. Regulated entities are more likely to uphold ethical standards and safeguard their customers' interests.
General information
Name:

Bex500 GLOBAL LIMITED

Regulation status:

Unregulated

Warnings from Financial Regulators:

Yes,

blacklisted by the Central Bank of Russia

Bex500 Website link:

Bex500.com

Active since

2019 (2018 for domain age)

Registered in:

Hong Kong

Bex500 Contact info:

Data is hidden

Trading platforms:

Webtrader

The majority of clients are from:

United States 

India 

Indonesia 

South Africa

Pakistan 

Customer support:

Email, phone, Telegram

Compensation fund:

No
Trading Assets Available at Bex500
Bex500 boasts a diverse selection of over 50 trading assets, spanning various trading contracts. For their Perpetual and Double contracts, popular cryptocurrencies like Bitcoin, Ethereum, Litecoin, and XRP are available. 
These contracts offer traders the flexibility of margin trading without the need for a specific settlement date. Notably, the Perpetual contracts offer up to 100x leverage. Also, the "Double" contracts push the envelope with up to 200x leverage, catering to short-term traders.
As a cross-asset exchange, Bex500 extends its offerings to encompass more than just cryptocurrencies. Traders can access up to 20 different Forex trading pairs and a variety of commodities such as Gold (AG), Silver (AU), and Oil (Brent and Crude). Both Forex and Commodity assets come with the potential for up to 100x leverage.
But, it's essential to remain skeptical, especially when confronted with promises of turning a single BTC into 100 BTC. That sounds more like a fantasy than a workable trading opportunity.
Bex500 Trading Platforms
Bex500 presents itself as a UI-friendly platform, accessible via desktop, phone, tablet, or laptop. They claim to employ risk mitigation tools like stop-loss and take-profit mechanisms. Besides, they suggest that clients receive email alerts for profitable trading opportunities.
Yet, a closer look reveals ambiguities in the trading conditions. While Bex500 promotes zero slippage and tight spreads, these claims must be taken with a grain of salt. Their SSL and DDoS certificates may offer some security, but they fall short of providing comprehensive data protection in the face of fraud.
Furthermore, Bex500's status as an anonymous entity raises concerns. Transparency is crucial for investment platforms, and the lack of essential founder and parent company information adds to the skepticism. In a market where stability is far from guaranteed, Bex500's promises may be nothing more than smoke and mirrors.
Bex500's problems, including regulatory concerns and lack of transparency, raise significant doubts about its legitimacy. Please avoid unregulated platforms like Bex500 and Encore Capital.
Trading Environment: Beware of Manipulative Tactics
Bex500 employs many communication channels to engage and potentially manipulate clients. They offer contact through email, phone, Telegram, and WeChat. Also, there have even been reports of communication via Instagram direct messages. 
But, this seemingly extensive support network is overshadowed by the fact that Bex500 keeps its location hidden, a concerning practice for a cryptocurrency exchange.
Clients are required to reveal their identity and verify their accounts, but Bex500 does not reciprocate with minor details about its own operations. This one-sided approach should be a red flag, cautioning users not to entrust their data to Bex500 or Belleo FX, another suspicious broker.
Leverage: A Risky Game
Bex500 offers leveraged trading, allowing traders to amplify their exposure to cryptocurrency price movements without owning the assets outright. While this may seem enticing, it comes with significant risks. Leveraging involves borrowing from the exchange to make more substantial bets.
For instance, if you have $10,000 in your trading account and use 100x leverage to bet $100 on Bitcoin's upward movement, a 10% increase would yield a $10 profit without leverage. However, with leverage, you could earn an additional $1,000, but you also risk losing $1,000 if Bitcoin's value falls by 10%. The balance between risk and reward in leveraged trading is delicate, and there are no guaranteed profits.
Mobile Trading App: Trade on the Go
While most cryptocurrency trading occurs on desktops, Bex500 also offers a mobile app for both iPhone and Android users. 
This provides flexibility for those who prefer to manage their crypto investments on their phones.
Demo Account: Proceed With Caution
Bex500 provides a demo account with a $5,000 balance, seemingly a valuable tool for newcomers. Yet, caution is advised. 
The results you achieve in the demo account may not reflect reality when you start trading live. Additionally, the company's generosity in granting bonuses, such as doubling your deposit, raises eyebrows and may not align with industry standards.
Bex500 Fees: Are They Really Competitive?
Bex500 claims to offer competitive trading fees, touting a flat 0.05% fee for all transactions. They boast that this fee is significantly lower than the industry average of 0.25%. But, in the ever-changing landscape of crypto fees, one can't help but wonder if these rates are truly as attractive as they seem.
But let's not stop there. When it comes to withdrawal fees, Bex500 presents itself as user-friendly. They assert that they don't impose any fees, leaving the burden on network fees, which, they claim, can vary based on network conditions. Sounds good on the surface, but is it too good to be true? 
In the crypto world, transparency is essential. Skeptics might ponder whether these fee structures are designed to lure unsuspecting traders. After all, what may appear as a cost-saving measure could have hidden implications. It's essential to delve deeper and consider all angles when assessing these claims.
Bex500 Withdrawal
If you're considering investing in Bex500, be prepared to navigate some restrictions and uncertainties. The platform only accepts cryptocurrency deposits, with a minimum deposit requirement of 0.001 BTC. 
This exclusivity means that chargebacks are not an option. That will leave investors with limited recourse in case of disputes.
Also, Bex500 does not disclose withdrawal fees, which is common among Ponzi schemes. Given these uncertainties, it's wise to exercise caution and consider alternative investment options.
The Bex500 payout process can be uncertain and subject to various conditions, prompting users to carefully consider their options.
Customer Support: Communication Challenges
Bex500 help is available through their customer support, offering assistance for various user inquiries. Bex500 offers many communication channels, including email, phone, Telegram, and even Instagram. 
Nonetheless, the lack of transparency about its location raises doubts about its authenticity. However, Bex500 does not give basic operational details back to clients who share their information.
Trader Reviews
Bex500 employs the classic tactic of displaying testimonials assertedly from satisfied clients. Yet, these testimonials lack evidence and should not be taken as proof of legitimacy. The absence of transparency is another notable red flag.
Investors should be cautious, as there is a risk of losing all funds deposited with Bex500. The platform's promotion on external websites that earn commissions from user losses adds to the suspicion. Before considering any investment, it's essential to conduct a thorough analysis of the broker.
Long Story Short – Bex500
All in all, Bex500 is a cryptocurrency exchange that raises significant concerns about its legitimacy and transparency. While it offers an extensive range of assets for trading and competitive fees, the absence of regulatory oversight, hidden details, and questionable practices make it a risky choice for investors. 
Investors should exercise caution and conduct thorough research to avoid falling victim to potential Bex500 scams.
Verdict: Caution Is Advised
Given the uncertainties and potential risks associated with Bex500, we strongly recommend exploring more reliable and regulated alternatives.
Ready to make informed investment decisions? Contact us for expert guidance and secure options. Your financial well-being is our priority.
This insight will help you safeguard your assets and financial future.
FAQ Section
Can I Withdraw My Funds From Bex500?
Yes, you can request withdrawals from Bex500, but be prepared for potential challenges and delays.
How To Get Money Back From Bex500.com?
You must keep records of your interactions and seek legal advice if necessary.
Can I Get a Chargeback From Bex500?
Crypto transactions are trickier to follow, but they can still be traced with effort. Contact us today and let us help you.