July 03, 2023
Reading Time:
6
min
CompassFX Review: Exploring Their Trading Solutions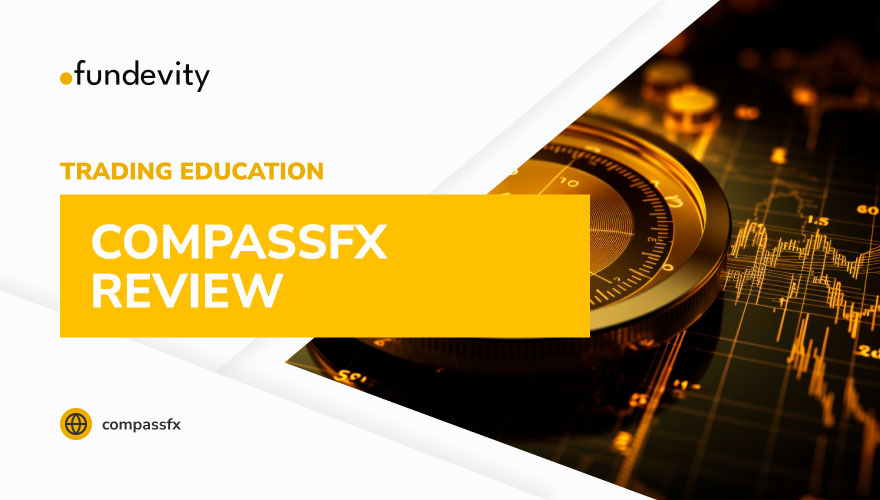 Are you looking for an FX training company that offers forex courses and mentoring programs? CompassFX might be the solution for you. In this CompassFX review, we will explore their trading model and technology to help you make an informed decision. Stay tuned to find out more details. 
| | |
| --- | --- |
| | General information |
| Name: | Compass FX |
| Regulation status: | Regulated Broker, CFTC, ASIC, NFA |
| Warnings from Financial Regulators: | No official warnings |
| Website link: | https://compassfx.com/ |
| Active since: | 1990 |
| Registered in: | Richardson, Texas |
| Contact info: | 800.577.3600 & 972.680.8080 |
| Trading platforms: | Ninja Trader, MT4, TradingView |
| Majority of clients are from: | United States, Australia, United Kingdom, South Africa, India |
| Customer support: | Email, chat, phone |
| Compensation fund: | Yes |
What is CompassFX?
CompassFX is a forex training company that offers trading courses and mentoring programs for traders. They provide professional and powerful tools for determining the best opportunities for entries, exits, market trends, momentum, and much more. 
The company offers a multipurpose indicators suite. This is for analysis and trading in the FX market with maximum efficiency.
The Features of CompassFX
CompassFX provides innovative trading technology. They do this to offer tailored resources to help traders make the most of the global currency markets. They include some of the best educational training programs to fit your level of experience, whether you are an experienced or novice trader. The company also provides a superior and comprehensive approach to trading. 
CompassFX offers a suite of features that can help traders trade with maximum efficiency. These powerful tools can help traders determine the most promising opportunities for entries, exits, market trends, momentum, and more. 
Some of the CompassFX indicators available at the firm include CompassFX Ray, CompassFX Synergy, CompassFX TDI, and CompassFX Range. In addition to these indicators, CompassFX offers the Synergy Trading Method. This is a mechanical trading system that combines price action and market sentiment. This method can help traders identify profitable trades and manage risk. To access these trading tools, clients can log into their CompassFX account.
What Are the Benefits of Using CompassFX?
CompassFX provides competitive pricing on multiple currency pairs. It also provides exceptional customer service. They offer a Daily Open Trading System. This is a price-based trading model that displays market entries, exits, and target levels of each trading session. The D.O.T.S. method can help traders identify and capture short-term intraday trends.
All in all, CompassFX is a legitimate training company that provides professional and powerful tools for traders. They offer tailored resources to help traders make the most of the global currency markets.
CompassFX Safety and Security: Assuring a Secure Trading Environment
Compass FX is dedicated to providing a safe and secure trading environment for its clients. As a regulated forex broker, Compass FX adheres to strict guidelines and is overseen by regulatory authorities. The company is regulated by the National Futures Association (NFA) with registration number 0232832, ensuring compliance with industry standards.
In addition to NFA regulation, Compass FX is also authorized by the ASIC and CFTC, further strengthening its commitment to client protection. These regulatory bodies monitor the company's operations. They ensure fair trading practices and financial security. Compass FX prioritizes the safety of client funds by working with top-tier liquidity providers. 
This ensures that your funds are held in segregated accounts, separate from the company's operational funds. In the event of any unforeseen circumstances, client funds remain protected and accessible.
When choosing a broker, it is crucial to consider the safety measures in place. Compass FX's regulatory compliance, adherence to industry standards, and commitment to client security make it a reliable choice for all.
Fact: Exness includes online trading in better-than-market conditions. It is one of the world's leading brokers with a trading volume of $3.35 trillion in May 2023.
Trading Assets Available at Compass FX: Diversify Your Portfolio
Compass FX offers a wide range of trading assets, allowing traders to diversify their investment portfolios. With access to multiple financial markets, traders can explore various trading opportunities and adapt their strategies accordingly.
FX: Compass FX enables traders to participate in the foreign exchange market, the largest and most liquid market in the world. Traders can engage in currency pairs trading, taking advantage of the fluctuations in exchange rates.

CFDs: Contract for Difference (CFD) trading is available at Compass FX. You can speculate on the price movements of various financial instruments without owning the underlying assets. CFDs allow traders to trade on markets such as stocks, indices, commodities, and more.

Futures: Compass FX facilitates futures trading. This involves buying or selling contracts for the future delivery of a specific asset at a predetermined price. 
By offering access to many trading assets, CompassFX empowers traders. 
CompassFX Trading Platforms: Empowering Clients with Advanced Tech
Compass FX includes a range of trading platforms to suit the diverse needs of traders. These platforms are renowned for their advanced features, great interfaces, and powerful trading capabilities.
MetaTrader 4. MetaTrader 4 (MT4) is one of the most popular trading platforms in the world. It provides traders with a comprehensive suite of tools. MT4 offers advanced charting capabilities, many indicators, and expert advisors.

NinjaTrader Platform. The NinjaTrader platform is a powerful trading software that caters to both newbies and trained traders. It offers advanced charting, automated trading capabilities, and many technical analysis tools. Traders can develop and backtest their strategies using NinjaScript, a proprietary scripting language.

TradingView Platform. TradingView is a web-based platform that provides traders with access to real-time market data, and many more. 
These trading platforms offered by the CompassFX broker empower traders with cutting-edge tech. 
CompassFX Dots Method: A Unique Trading Model for Success
The CompassFX Dots Method is a trading model developed by Compass FX. It exists to assist traders in making informed trading decisions. This method combines technical analysis, market sentiment, and proprietary indicators to identify trade setups.
The D.O.T.S. Method exists to be versatile and applicable to various trading styles. This includes day trading, swing trading, and long-term investing. Traders can utilize the Dots Method across many financial markets, including FX, stocks, and commodities.
This trading model leverages the power of data analysis and statistical algorithms to generate trading signals. Traders can use these signals to guide entry and exit points, risk management, and overall trade strategy.
The advantages of the CompassFX Dots Method include:
Objective Analysis: The Dots Method provides a systematic approach to analyzing the market. It reduces emotional bias and subjectivity in trading decisions.

Versatility: Traders can apply the Dots Method to various timeframes and markets, adapting it to their trading style.

Clear Entry and Exit Signals: The Dots Method generates clear signals. 

Risk Management: The Dots Method incorporates risk management principles, allowing traders to control their risk levels.
By using the mind-blowing CompassFX Dots Method, traders can enhance their trading strategies.
CompassFX Customer Support: Reliable Assistance for Traders
Compass FX understands the importance of providing reliable customer support to traders. The company strives to assist clients throughout their trading journey. It ensures that their concerns are promptly addressed and their needs are met.
The dedicated customer support team at Compass FX is available to assist traders with any inquiries or technical issues they may encounter. Traders can reach out to the support team through various channels, including email, phone, and chat. 
The experienced support staff is committed to providing prompt and helpful responses. Compass FX also presents educational resources and materials to empower traders with knowledge and skills. These resources include articles, video tutorials, webinars, and educational events. Traders can access these materials to enhance their understanding of trading concepts, strategies, and market analysis.
With a strong focus on customer support, Compass FX aims to build long-term relationships with its clients. Traders can rely on the company's support services to navigate the complexities of the markets.
Client Reviews of CompassFX: A Trusted Broker with Satisfied Traders
Compass FX is an established forex broker with a track record of providing reliable services to its clients. While the company does not have Trustpilot reviews available, it is vital to note that not all traders leave reviews on third-party platforms. 
Many traders choose to provide feedback directly to the broker or share their experiences within trading communities. CompassFX has garnered a positive reputation among traders. The company's long-standing presence in the industry and partnerships with legit clearing firms contribute to its credibility.
Note: ETX Capital secures a commendable position of 162 out of 333 companies in the prestigious TU Ranking. This ranking takes into account over 100 criteria.
The Conclusion 
Traders appreciate the diverse scope of trading assets available at CompassFX. The trading platforms provided by the broker are highly regarded for their advanced features. This enables traders to execute their strategies effectively. 
In terms of safety, Compass FX's regulatory compliance and adherence to industry standards instill confidence in traders. The company's dedication to protecting client funds and maintaining transparency further contributes to its trustworthiness.
While the absence of Trustpilot reviews may seem unusual, it is essential to consider the overall reputation and credibility of Compass FX based on its experience, regulatory compliance, and client satisfaction. Traders can feel assured that Compass FX strives to provide a reliable and reputable trading experience.
Are you interested in more reliable brokers like CompassFX and Etrader? If so, contact us for a free consultation.
FAQ Section
What are the trading platforms of CompassFX.com?
This broker has MT4, TradingView, and NinjaTrader platform integration.
Does CompassFX.com give free trade education to currency traders?
CompassFX delivers free FX education for traders with tailored resources.
Is CompassFX.com licensed and regulated?
CompassFX.com is regulated by the CFTC, ASIC, and NFA.