September 09, 2023
Reading Time:
4
min
DACFX Review: Is It a Notorious Forex Scam or Not?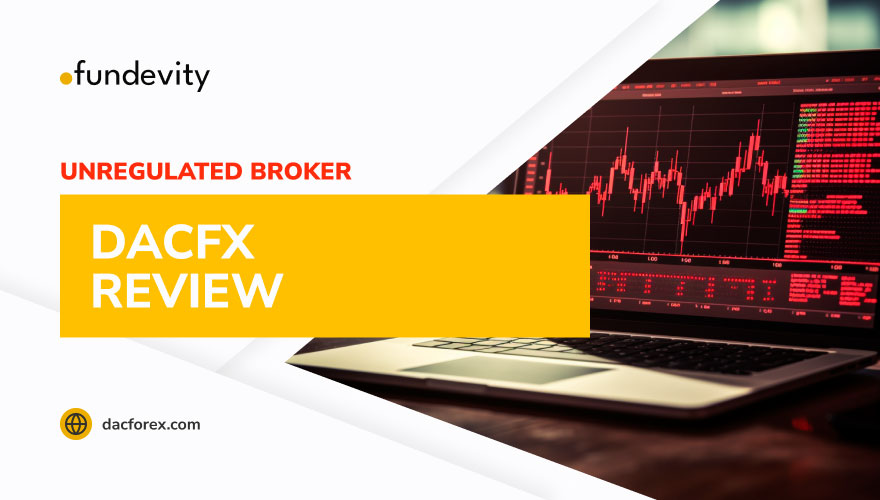 Are you fed up with financial uncertainty and searching for a way to secure your financial future? DACFX may appear as a promising solution. Still, don't be deceived. 
In this DACFX review, we will talk about the troubling aspects of this unregulated broker. With the lack of transparency and a shady reputation, DACFX has raised many red flags. Join us as we delve deeper into the world of DACFX.
General information
Name:

DACFX

Regulation status:

Unregulated Broker

Warnings from Financial Regulators:

No official warnings

Website link:

dacforex.com

Active since

2023

Registered in

n/a

Contact info:

Data is hidden

Trading platforms:

MT5

The majority of clients are from

United States 

United Kingdom 

India

Germany

Netherlands

Customer support:

n/a

Compensation fund:

No
DACFX Legitimacy and Location
DACFX is far from being a trustworthy broker. At first glance, it may resemble other offshore brokers, but the lack of any licensing and functionality sets it apart for all the wrong reasons. DACFX broker scam fails to provide any legal docs on its site. This is what leaves us in the dark about their true identities. Also, its website is not functional for quite some time now. 
What's even more concerning is the connection between DACFX and another offshore broker, Dacland FX. Their similar branding and poorly translated websites suggest a fake partnership. DACFX operates without a license, implying it may be situated in an offshore haven notorious for scam activities. Note that trading with offshore brokers like DACFX and FXCess is quite risky, and it's wise to simply avoid them.
Important Regulators
As we know, Dacforex.com exists without any form of licensing or address disclosure. This lack of regulation places it in the high-risk category of brokers. 
Despite this, regulated brokers, like those overseen by the FCA, ASIC, and CySEC, are subject to strict guidelines that provide client protection. 
These regulatory bodies enforce strict rules that are there to protect traders. They insist on essential measures like having enough capital, keeping client funds separate, reporting all transactions, and having a backup in case of bankruptcy. Trading with these Tier 1 regulated brokers means your investments are safe and sound.
Trading Assets at DACFX
DACFX claims to offer access to five financial markets, including FX, stocks, commodities, indices, and crypto. Yet, their unregulated status and non-functional website raise concerns about transparency and investor protection. Beware of that! 
Traders are left without vital details, and this stops their ability to make smart and safe choices. It's crucial to consider these drawbacks when evaluating DACFX as a potential broker. There are plenty of regulated brokers that support the same span of trading assets, if not better. You can contact us for a free consultation to discover what these are! 
Trading Platforms Available
DACFX utilizes a poor version of the MT5 platform, missing key features that the authentic MT4 and MT5 platforms provide. The real MetaTrader platforms offer advanced charting, numerous technical indicators, robust back-testing tools, and Expert Advisors (EAs). 
DACFX's platform lacks essential features, including pending orders and expert advisors. The absence of clear information on spreads further adds to its unreliability. All in all, this truly makes it an unattractive choice for traders.
DACFX: Trading Conditions
DACFX offers a high leverage of up to 1:100, a practice not accepted in most reputable jurisdictions. Such high leverage levels are typically associated with risky brokers. 
Besides, DACFX talks about spreads as low as 0.7 pips on major currency pairs like EUR/USD. While these spreads may seem nice, the broker's lack of regulation again raises significant doubts. To lower risk, it's advisable to opt for licensed brokers with transparent and lower spreads.
The leverage offered by DACFX can be nice, but it comes with substantial risks. The EU and UK have imposed leverage caps of 1:30 for regulated brokers to protect retail traders from excessive risk. Thus, seeking high-leverage Forex brokers is not advisable, as it often leads to financial losses or scams.
DACFX Broker – Withdrawal Policy
DACFX exclusively accepts wire transfers as a payment method. While wire transfers allow larger deposits, they come with drawbacks. Think of in-person verification and longer processing times. Similarly, wire transfers are challenging to reverse, making them unfavorable for chargebacks in case of disputes. 
Traders are encouraged to consider brokers offering more convenient payment options. Some of those are PayPal, Skrill, Google Pay, bank cards, or cryptocurrencies.
Trader Reviews on Trustpilot
DACFX's lack of Trustpilot reviews raises suspicions about its credibility as a company. Reviews on platforms like Trustpilot serve as valuable indicators of a broker's reputation and reliability. 
It is wise to choose regulated brokers with positive reviews, typically rated 4.5 stars or higher. Always do this to ensure a safe trading experience.
Note: Protect your funds by avoiding brokers such as Vonway Forex and DACFX. Make sure your trading experience is safe.
Corrupt Broker Tactics
Beware of deceptive broker tactics used by corrupt firms. These tactics often include withdrawal issues, hidden fees, and unrealistic guaranteed returns. Scammers may demand high withdrawal processing fees, exceeding 20%, under different names. 
They may also promise guaranteed profits, which is a classic red flag. Trading with brokers like DACFX can lead to significant financial losses. It's essential to stick to regulated brokers and avoid suspicious ones like DACFX or Envi FX.
Can I Make Money From Online Trading?
So, do you want to make money from online trading? We offer free consultations to help you make smart decisions in your trading journey. Besides, our new AI Analysis Bot simplifies research, saving you both time and effort. Choosing the right broker is vital for your trading success, by all means. Always try to avoid risky brokers and opt for those with Tier 1 regulations to protect your assets.
All in all, DACFX reveals itself as a problematic broker with multiple red flags. Its lack of regulation, sketchy website, and questionable practices should serve as warnings for you. To ensure a secure and transparent trading experience, it's better to choose reputable, regulated brokers with a proven track record of reliability. Your financial future deserves nothing less than the best.
FAQs
Is DACFX Legit?
DACFX lacks regulation and has a non-functional site, making it a high-risk choice for traders.
What Are The DACFX's Platforms?
DACFX uses a poor MT5 platform with missing features.
How To Contact DACFX?
DACFX's contact information is hidden, adding to concerns about transparency.