August 26, 2023
Reading Time:
6
min
Envi FX Review: Exploring Offshore Regulatory Waters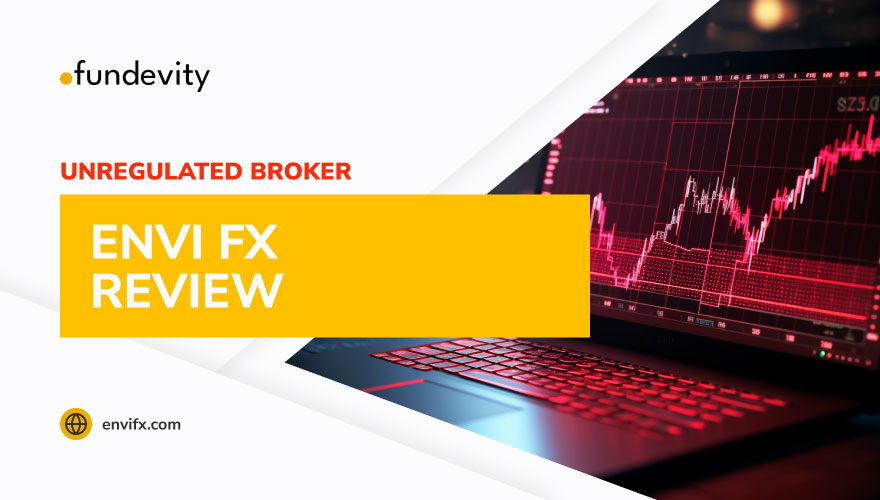 Envi FX broker positions itself as an online trading firm operating under the STP/ECN execution model. They were founded in 2020 and registered in Saint Vincent and the Grenadines. You should, however, exercise caution when dealing with offshore brokers. The fact is they usually operate in a regulatory gray area. This can be a major risk since it is difficult to determine if the broker is reliable and honest. Keep reading our Envi FX review to find out more! 
Envi FX Legitimacy: The Offshore Conundrum
Envi FX emphasizes its connection to EnviLLC, a company founded in 2020. They also insist on authorization by the MWALI International Services Authority. But, as you all know, the regulatory framework of offshore authorities is poor. It is less stringent compared to mainstream financial regulators. The Financial Services Authority of Saint Vincent and the Grenadines oversee their operations. But this means nothing, as we know that SVG jurisdiction does not regulate FX brokers. 
Traders must be aware of the risks associated with trading with offshore brokers like Envi FX and Unicorn FX. 
General information
Name:

EnviLLC

Regulation status:

Unregulated Offshore Broker

Warnings from Financial Regulators:

No official warnings

Website link:

envifx.com

Active since

2020

Registered in:

Saint Vincent and the Grenadines

Envi FX Contact info:

Data is hidden

Trading platforms:

MT4, MT5

The majority of clients are from:

United States 

United Kingdom 

Canada

Estonia

Australia

Customer support:

Yes (24/7 live chat)

Compensation fund:

No
Envi FX Trading Assets: Variety Amid Uncertainty
Envi FX boasts from Forex to Cryptocurrencies, Metals, Indices, Stocks, and Commodities. While this variety may seem appealing, traders should approach such offerings cautiously. The lack of robust regulatory oversight can expose traders to higher risks and uncertainty. Hold that in mind. 
Choosing a reliable broker is essential when trading with financial products. It is also important to research the broker thoroughly. You must check for certifications and licenses, as well as customer reviews, before committing to any trade. 
Note. It's essential to avoid unregulated trading providers from offshore destinations, like Envi FX and Margex, for example.
Envi FX Trading Platforms Available 
So, what is there to know about the Envi FX trading platforms? Envi FX presents the MetaTrader4 (MT4) and MetaTrader5 (MT5) platforms, designed for ease of use and functionality.
Envi FX MT4
MetaTrader 4 offers three distinct execution modes, suiting many traders. Choose between Instant Execution, Market Execution, and Request Execution to align your trading strategy with the mode that suits you best. This flexibility ensures that your trades are executed precisely according to your intentions.
Whether you're a novice trader or an experienced professional, MetaTrader 4 equips you with a full range of order types to fine-tune your trading strategy. Utilize the platform's two Market Orders to swiftly enter or exit the market at current prices. Embrace the power of four Pending Orders, allowing you to plan and schedule trades ahead of time. 
Moreover, MetaTrader 4's two Stop Orders, accompanied by the innovative Trailing Stop, grant you dynamic control over your trades always. 
But, keep in mind that it's more acceptable to use MT4 with a secure and regulated broker. 
Envi FX MT5
The MetaTrader 5 trading platform stands as a modern marvel. It seamlessly integrates the acclaimed features that have made MetaTrader 4 a renowned success. 
This evolution has moved MT5 to the forefront of the trading industry, captivating traders worldwide. Yet, when combined with Envi FX's trading conditions, MT5 may not work as expected.
Traders should always research before investing. Always deal with legitimate and trustworthy companies like Abshire Smith, FCA regulated broker.
Discovering MT5's Potential
What is MT5? MT5 brings together the essence of the MetaTrader series while introducing new dimensions that amplify its capabilities. The result is a platform that's gaining widespread recognition as one of the industry's top choices. Envi FX tries to harness the true potential of MT5. It tries to boost its performance and optimize its interface to offer you a trading adventure that stands apart. But, this is just smoke and mirrors after all. 
While these platforms are celebrated in the trading community, traders should consider the context of their usage. Are they offered to compensate for potential shortcomings in other areas due to offshore regulatory status?
General Trading Environment at Envi FX
Envi FX portrays itself as an STP broker. That suggests direct trade order processing with minimal interference. While this model offers potential benefits, traders should be wary of the broker offshore regulation.
This broker has four live account options. Envi FX account types are Standard, PRO, VAR, and Mini, each tailored to specific trading styles. Still, whether you seek competitive spreads and commission-based trading, it's better to choose a reputable broker. Contact us for a free consultation, and we will advise you on the best options.
Besides, it's interesting that the Envi FX PAMM account option allows investors to allocate funds to experienced traders.
Leverage: Balancing Risk and Reward
Envi FX provides a maximum leverage of up to 1:500 across all account types. While leverage can amplify gains, it also escalates risk, emphasizing the importance of prudent risk management. 
Traders should weigh the benefits and drawbacks of leverage before engaging in trading activities. This is essential to remember. 
Mobile Trading App
The Envi FX mobile trading app enables you to trade on the go. It allegedly seamlessly executes trades and manages your portfolio from the convenience of your mobile device.
However, knowing this broker is unregulated, this is not to be taken lightly. Use mobile trading only with regulated brokers, as bogus ones may damage your device. 
Envi FX Demo Account
Envi FX encourages traders to enhance their skills through a demo account. 
This account enables you to refine strategies and bolster your trading without jeopardizing your capital. But please remember this is an unregulated broker. 
Envi FX Fees
Envi FX maintains competitive spreads, with starting points as low as:
0.8 pips for Standard accounts

0.4 pips for PRO accounts

1.2 pips for VAR accounts. 
While Standard, PRO, and Mini accounts attract a commission per lot, the VAR account stands out with zero commissions. This diverse fee structure accommodates varying trader preferences.
Can I Withdraw from Envi FX?
Envi FX facilitates deposits and withdrawals through various methods, including credit/debit cards and crypto wallets. Deposits and withdrawals at Envi FX include popular options like Bitcoin, Ethereum, Ripple, Litecoin, and Tether. 
The withdrawal process may appear straightforward, enabling you to seamlessly access your funds. However, the ease of the withdrawal process should be evaluated in conjunction with the broker's offshore status. Bear that in mind. 
Customer Support: Seeking Assurance
Envi FX offers customer support, but traders should remember that this may not entirely mitigate concerns related to the broker's offshore regulatory standing. Support services might not provide the same level of accountability as regulated brokers. They claim to offer 24/7 live chat support. Furthermore, support staff may not be adequately knowledgeable to address complex inquiries. 
Besides, customer service may not be available in many languages as is often offered by regulated brokers.
Trustpilot Reviews: A Peek Into a Dubious Landscape
Traders' reviews on Trustpilot show Envi FX's positive reputation, with an average rating of 4.4 stars. The majority of traders commend the platform's performance and service quality. This is relatively surprising considering this broker is unregulated. 
Traders' reviews on platforms like Trustpilot should be approached with caution. Positive reviews might not necessarily indicate a reliable and transparent trading environment. This is mainly the case when dealing with offshore-regulated brokers.
Exposing Fake Brokers
Fake brokers have crafty tricks to deceive traders. They promise huge profits in no time but often lead to disappointment and financial loss. They also use flashy ads and persuasive methods to make their platform seem exceptional. Yet, legitimate brokers value transparency over flashy marketing.
They even fake regulatory connections to appear trustworthy, which is extremely dangerous. Always verify their licenses – reputable brokers proudly display them. Thorough research is crucial in order to stay safe. Stick with trusted brokers regulated by authorities like ASIC or the FCA. They follow the rules and protect your interests by all means.
Long Story Short – Envi FX
After all, Envi FX presents an intriguing yet precarious option for traders. While the Envi FX broker offers a variety of trading assets, account options, and competitive fees, its offshore regulatory status introduces an element of uncertainty. 
Traders must approach Envi FX with mistrust and they must consider the potential risks and drawbacks. Remember that this broker is operating in regulatory gray areas. As with any trading decision, due diligence is essential to make an informed choice. 
Contact us today, and let's find the right broker for you. Here you can book a free consultation and find out what to do for a start.
FAQ Section
Is Envi Fx Safe?
They are not safe as they lack any valid regulatory compliance.
Does Envi FX Offer a Demo Account?
Yes, Envi FX offers a demo account. But, it remains untested.
How do I Withdraw Money from EnviFx?
The withdrawal process is straightforward, as they claim.