September 28, 2023
Reading Time:
4
min
First Ratio Limited Review: Is This a Reliable Firm? Let's Investigate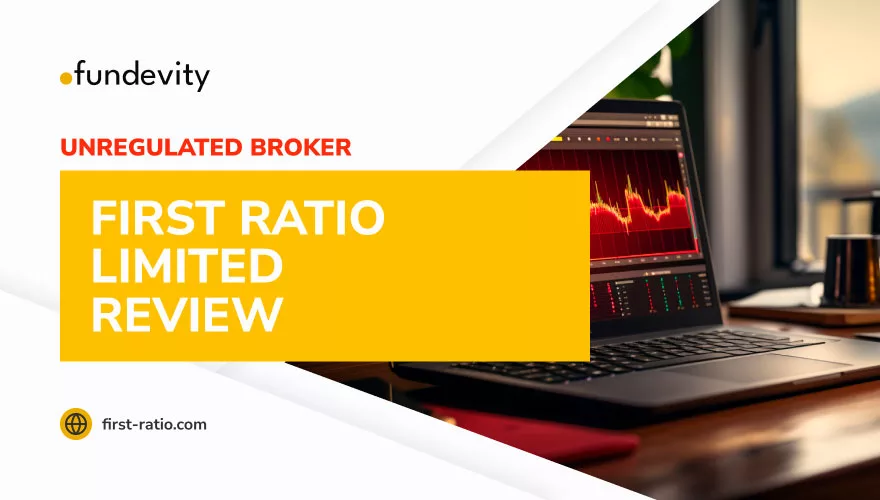 Choosing a broker for online trading can be a big decision. We all know this. Today, we're taking a closer look at First Ratio Limited to see if it's a safe choice or not. There are many details to discover in our First Ratio Limited review. Let's get started! 
General information
Name:

First Ratio Limited

Regulation status:

Unregulated Broker 

Warnings from Financial Regulators:

No official warnings

Website link:

first-ratio.com

Active since

2021

Registered in

Hong Kong and Bangkok 

Contact info:
+66 0830087826, [email protected]
Trading platforms:

MT5 (Allegedly)

The majority of clients are from

United States 

Myanmar (Burma) 

Thailand

China

Customer support:

Email, phone, and WhatsApp 

Compensation fund:

No
First Ratio Limited Company Details
First Ratio Limited claims to be based in Hong Kong and Thailand. Yet, we must say that it's not regulated by local authorities. In Hong Kong, brokers must have licenses from the Securities and Futures Commission (SFC), and Thailand has its own Securities and Exchange Commission (SEC). The fact that this firm isn't on their registers raises concerns about its legitimacy. Keep that in mind. 
The lack of a proper license also means we can't verify their addresses. Trading with unregulated brokers is risky because you lack the safety nets provided by regulated ones.
For a safe trading experience, it's best to stick with Tier 1 regulated brokers. They follow strict rules and are monitored by trusted authorities like ASIC, BaFIN, or CySEC. These regulations exist to protect traders and guarantee fair practices.
Trading Assets Available
First Ratio Limited offers various trading assets. They are as follows: 
Foreign Exchange: EUR/USD, CHF/USD, GBP/USD

Crude oil

Precious metals

Indices like AUS200 and UK100
However, keep in mind that their presentation of these assets isn't very clear.
Note: Be mindful when considering Costa Markets as your broker, as there have been many concerns about their reliability.
Trading Platforms We See at first-ratio.com
This odd firm says it supports MetaTrader 5 (MT5), but we couldn't confirm this. Truthfully, not having a reliable platform makes us skeptical about the company.
Let's discuss MetaTrader 4 and MetaTrader 5, two platforms that have won the hearts of traders worldwide. 
MetaTrader 4 (MT4)

is your reliable toolkit. It's known for its user-friendly interface, making it perfect for traders, whether they're beginners or seasoned pros. MT4 offers an extensive array of indicators, customizable charts, and automated trading capabilities through Expert Advisors. Its flexibility and no-frills design make it a top choice for those who prefer simplicity in trading.

MetaTrader 5 (MT5)

is MT4's upgrade. It takes everything that's great about MT4 and makes trading even better. With MT5, you not only get the same modern interface and powerful charting tools, but you also gain access to more timeframes, more technical indicators, and more order types. It's the choice for traders who want a bit more depth in their analysis and a broader trading portfolio.
Trading Conditions: Leverage, Spreads, and More
This shady company advertises low spreads and no trading commissions. While these offers may sound good, there are several concerns surrounding this brokerage.
Their high leverage ratios, such as 1:400, can be risky. Regulated brokers follow stricter and more secure limits, like 1:30, to protect traders. So, it's wise to avoid high-leverage brokers to protect your money.
All in all, always prioritize your financial safety and choose regulated brokers.
Withdrawal Policy
We can see this trading business mentions accepting payments through China UnionPay and USD Tether, but we couldn't confirm this. Be cautious of brokers pushing for crypto deposits. It is much more challenging to trace a crypto transaction (yet, not impossible).
Traditional payment methods like VISA or Mastercard offer more security with chargeback options. Also, be mindful that First Ratio Limited's $1000 minimum deposit requirement is unbelievably high.
Note: It's wise to stay away from Greendax due to suspicions regarding their business practices.
Online Reviews From Real Clients
The First Ratio Limited fake company has a notable lack of Trustpilot reviews, with 0 user feedback. This is an unusual situation for sure! Keep in mind that most reputable brokers have ratings and reviews from real users on Trustpilot.
When choosing a broker for your trading journey, it's essential to think about safety and reliability. One effective way to do this is by opting for brokers that have earned high Trustpilot ratings, typically around 4.5 stars or more. These ratings are based on genuine user experiences and can serve as a solid guide to selecting a safe company. So, when in doubt, consider brokers with a proven track record. If you decide to contact us today for a free consultation, we can help you find these reliable brokers!
Scam Brokers and Their Tactics
Many people aim to step into the financial markets in hopes of making some extra money. However, the scammers out there are just as eager. They're well aware that newcomers might not know the ropes, and they exploit this.
They create fake websites that promise big gains but deliver nothing. Essentially, they trick people into thinking they're investing capital when, in reality, they're being scammed.
What happens after you've fallen for such a scam and shared your contact info? Well, those experienced scammers won't leave you alone. They'll keep calling, trying to convince you that they can handle all the problematic parts of investing for you. But remember that you won't see any actual profits.
Most of the time, trying to withdraw any funds from these scams is just not going to happen. But remember, scams can happen to anyone! There's no reason to feel embarrassed about reporting one.
Can I Earn Money From Online Trading?
Online trading can be profitable. Still, you must know exactly what's happening in the markets. We offer free consultations and an AI Analysis Bot to simplify your research. This bot provides trading advice based on extremely accurate predictions.
Of course, nothing is 100% guaranteed. But with our AI Analysis Bot, you'll have a practical advantage. Reserve your spot for our upcoming launch and enjoy a 20-day free trial. This trial includes 5 FX analysis reports and 5 stock analysis reports per month.
All in all, your choice of broker is crucial for stress-free trading. Prioritize safety, avoid fake brokers like ThorFX and First Ratio Limited, and use tools like our AI Analysis Bot to boost your trading journey.
In FX trading, smart decisions are your best bet. Stay observant, choose wisely, and protect your investments.
FAQs
What Is First Ratio Limited?
First Ratio Limited is an unregulated and unsafe brokerage firm.
What Are The First Ratio Limited's Platforms?
First Ratio Limited claims to support MetaTrader 5, but its availability is uncertain.
Can I Withdraw My Funds From first-ratio.com?
Withdrawing funds from first-ratio.com may be difficult, given unclear terms and potential scam practices.