September 04, 2023
Reading Time:
4
min
Forex500 Review: Revealing the Facts About This Brokerage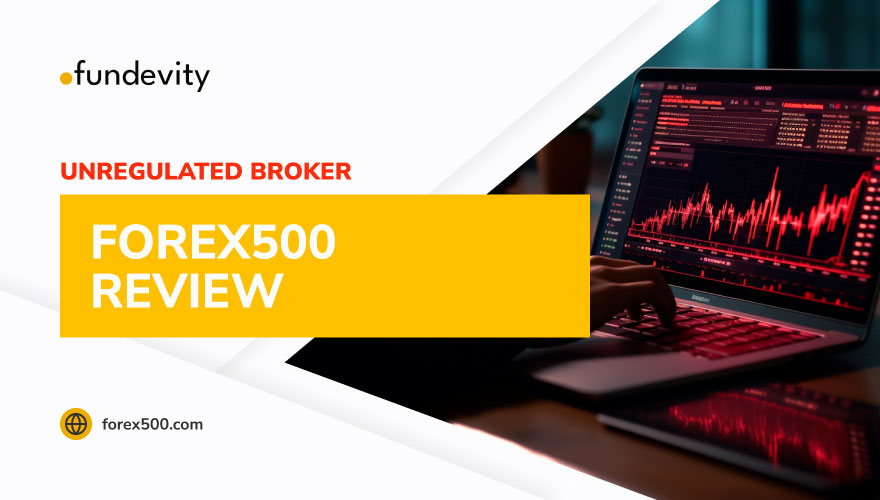 Are you considering Forex500 for your trading journey? Pause right there! This has nothing to do with Plus500! 
In this Forex500 review, we're diving deep into this suspicious FX company, an unregulated broker that demands your attention. Our investigation goes beyond the surface, revealing some signs and red flags, especially when it comes to hefty fees. Don't dive in blindly – read on to equip yourself with crucial insights.
General information
Name:

Forex500 LTD

Regulation status:

Unregulated Broker Scam

Warnings from Financial Regulators:

No official warnings

Website link:

https://www.forex500.com/

Active since

2012

Registered in

Hong Kong

Contact info:

Data is hidden

Trading platforms:

WebTrader

The majority of clients are from:

Slovakia

Lithuania 

Poland

Slovenia 

United Kingdom

Customer support:

No

Compensation fund:

No
Forex500 Legitimacy
Let's begin by talking about the Forex500's legitimacy. What is there to know? This broker, based in Hong Kong, offers an array of trading instruments to its clients. Yet, a big concern arises – the lack of a regulatory license. 
Regulatory frameworks are essential to protect traders from fraudulent practices. For instance, brokers regulated by the FCA and CySEC adhere to rigorous rules and offer protection like negative balance. Opting for regulated brokers assures a secure trading environment.
Beware! This broker targets individuals in these areas: Slovakia, Lithuania, Poland, Slovenia, and the United Kingdom. Stay cautious.
Trading Assets Available
The Forex500 scam does offer trading opportunities in forex, commodities, indices, and cryptocurrencies. 
Yet, wisdom suggests exploring brokers that offer a more diverse range of assets. Consider brokers like Plus500, and Webull, which provide an extensive spectrum including FX, cryptocurrencies, indices, stocks, and commodities. For more brokers like this, contact us for a free consultation today!
Trading Platforms at Forex500
Are you asking yourself if there is a Forex500 MT4? Unlike many reputable brokers using the acclaimed MetaTrader 4 and 5 platforms, Forex500 gives us questionable WebTrader. This is quite shady! 
The industry standard inclines toward MetaTrader platforms due to their sophisticated features. Notably, these include expert advisors and trading robots. Seeking brokers that have these platforms truly ensures a more dependable trading experience.
MetaTrader 4 and 5 (MT4 and MT5) stand as the gold standard in trading platforms. Namely, they offer an array of benefits that empower clients. As we said earlier, here you have a range of tools, from expert advisors and trading bots to a wide selection of indicators. 
Their UI-friendly interfaces make navigation a breeze, while the built-in programming languages enable the automation of trading strategies. With real-time data, solid charting, and seamless execution, MT4 and MT5 provide a solid foundation for all.
Forex500's Trading Environment
Within Forex500's domain, leverage ratios set it apart, flying to 1:1000. Yet, heed the call for caution, primarily if you're new to the game. High leverage serves as a double-edged sword, capable of magnifying gains and losses similarly. You may struggle with this if you are new to trading. Selecting regulated brokers with caps such as the EU's 1:30, promises steadier trading.
Forex500 presents different leverages across various trading accounts. It goes from 1:100 to 1:400. A tempting proposal, it grants clients leverage of up to 1:1000. This figure, notably surpassing levels considered appropriate by many regulators, presents a high risk. Regulators in Europe, Australia, Canada, and the U.S. recommend maximum leverage of 1:30 or 1:50, underlining the potential for substantial fund losses, mainly among those new to trading. Novices should start with smaller leverage, not exceeding 1:10, until they become confident enough.
The concept of leverage makes FX markets better. Yet, this financial tool is not without its toll. As leverage increases, so does risk, potentially leading to swift and irreparable losses. To protect retail traders, the EU and UK implemented a cap of 1:30, a preventative measure against levels like 1:100 or 1:500. We advise avoiding high-leverage Forex brokers to evade the traps of scams or market losses.
Spreads
Forex500's spreads differ among account types. Basic accounts start at 3 pips, while Professional accounts boast spreads as low as 0.7 pips. 
To maximize your trading potential, it's worth exploring brokers that offer competitive spreads. Do that to boost your profitability.
Note: Ensure the safety of your assets by choosing legit brokers, and avoid fake ones such as Gainful Markets or Forex500.
Forex500 Account Types
Forex500 has three account types: Basic, Standard, and Professional. Each demands varying minimum deposits – £100 for Basic, £500 for Standard, and a big £50,000 for Professional. 
If a professional and secure trading environment is your priority, research brokers with transparent accounts and good reputations.
Payment Methods & Withdrawals
Regrettably, accurate details about Forex500's payment options remain unavailable. However, clever traders are better served by brokers that offer transparent and reliable payment methods. Please keep that in mind! 
These encompass trusted options like PayPal, Skrill, bank cards, Advcash, and cryptocurrencies, ensuring smoother and more safe transactions. Trusted payment methods become the safeguard for your financial interests, and mind.
Trader Reviews on Trustpilot
A notable absence emerges when searching for reviews of Forex500 on platforms like Trustpilot or Forex Peace Army. However, caution is advised as negative reviews surface on the broker's Facebook page. 
Prioritize brokers with solid ratings of 4.5 stars or higher and positive feedback from reputable platforms.
Note: Protect your investments by opting for regulated brokers and steering clear of fake entities like Jalatama or Forex500.
Scam Broker Tactics
Fraudulent brokers have numerous tactics to scam you. You will see certain withdrawal issues practically always. Likewise, you may experience strange fees. Keep in mind that there are phony high fees, regularly surpassing 20%. Those fees will often have another term – withdrawal processing fees.
Also, there's nearly always a profit fee. Fake brokers and websites want you to pay for these in advance.
Also, there are illogical guaranteed returns. This is another famous deception method that you should be aware of. Fraudsters will always promise you massive guaranteed returns. Note that trading with favorably leveraged instruments carries considerable risks. Any broker fraud will try to convince you that your returns are 100% guaranteed. Be mindful of that. 
Long Story Short
In a nutshell, our exploration of Forex500 reveals an unregulated broker with both strengths and alarming weaknesses. While it gives us diverse account options and alluring leverage ratios, its lack of regulation and transparency is concerning. 
Prioritize your investments by seeking brokers with licenses, diverse asset choices, and secure platforms. Keep your investments safe by choosing regulated brokers and avoiding scams like Forex500 and Aestotal.
For more details on regulated brokers, contact us for a free consultation.
FAQs
Is Forex500 Regulated?
Forex500 is unregulated. Keep that in mind.
How To Contact Forex500?
They haven't disclosed any contact details.
Can I Withdraw my Funds From Forex500.com?
Withdrawal from Forex500.com may pose challenges due to its unregulated status.