August 04, 2023
Reading Time:
6
min
Gainful Markets Review: A Scam Broker with Deceptive Practices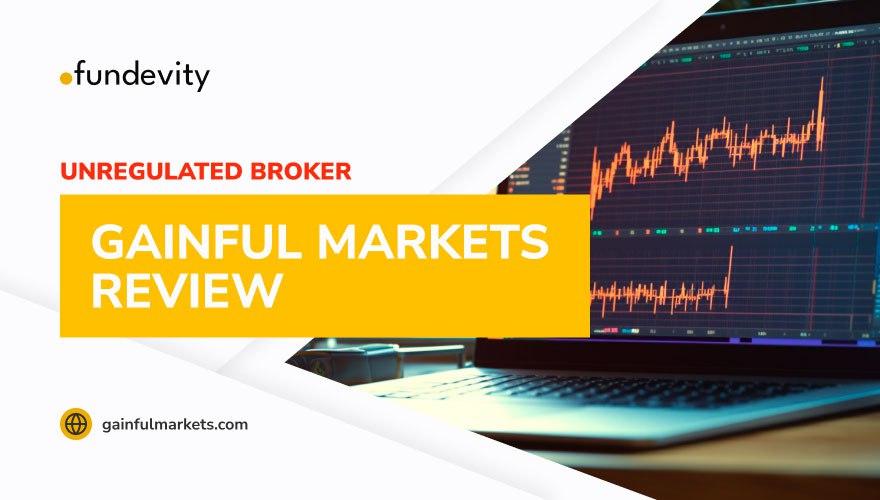 In online trading, you need to be vigilant when choosing a brokerage. In this Gainful Markets review, we will delve into the legitimacy of this platform. We will explore the various aspects that raise concerns. 
From false office addresses to a lack of authorization from financial regulatory bodies, Gainful Markets seems to be treading on dangerous ground. Besides, we'll look at their trading assets, platforms, account types, bonuses, support, and traders' reviews. That will paint a comprehensive picture of this broker. So, let's dive in!
Gainful Markets: Legitimacy and Concerns
Gainful Markets claims to operate from offices in Singapore and the Netherlands. Yet, many investigations reveal these addresses are false. The absence of authorization from financial regulatory bodies and multiple fraud warnings from Tier-1 regulators in Europe further validate the suspicion surrounding this broker. 
Compliance with financial safety conditions, such as MiFID, is crucial for traders' protection. Unfortunately, Gainful Markets fails to meet many of these requirements, making it a high-risk platform.
Authority Warnings
Authorities have raised red flags and issued stern warnings about GainfulMarkets' fraudulent practices. Leading the charge was AFM from the Netherlands, which promptly sounded the alarm bells about this dubious broker. As news of the scam spread, other regulatory bodies like Finanstilsynet from Norway, CNMV from Spain, and CONSOB from Italy echoed the warning. They alerted investors to exercise extreme caution.
While the GainfulMarkets fraud may not be widespread, its impact on trustful traders cannot be underestimated. The fact that multiple reputable regulatory agencies have issued warnings underscores the severity of the situation. As responsible authorities take a stand against such unscrupulous activities, traders must be vigilant and steer clear of GainfulMarkets. You should also avoid Margex, another trading scam.
General information
Name:

Gainful Markets

Regulation status:

Unregulated Broker Scam

Warnings from Financial Regulators:

The AFM,

Finanstilsynet, 

CNMV, 

CONSOB

Website link:

http://gainfulmarkets.com/

Active since

2023

Registered in

Singapore,

One Raffles Quay, Singapore 048583, Singapore

Contact info:

Telephone number:

31303690673, 6531258960, 442030972750

Trading platforms:

WebTrader

The majority of clients are from

Germany

Belgium

Spain

France

United Kingdom

Customer support:

Yes (

Email address(es): [email protected]

)

Compensation fund:

No
Trading Assets Available
Despite not providing much information on its website, Gainful Markets offers many assets. Traders can access: 
Forex pairs like EUR/USD and GBP/USD, 

Crypto assets including Bitcoin and Ethereum, 

Popular stocks like Amazon and Tesla, 

Indices such as the Nasdaq and Nikkei, and more. 
This extensive selection may look good. Gainful Markets also offers a variety of trading tools and resources, as they claim. Its platform includes advanced charting tools, news feeds, and expert traders' analysis. That allows traders to make more informed decisions and increase their profits. Yet, they are not regulated, remember that. And everything they offer is irrelevant.
Trading Platforms Available at Gainful Markets
Gainful Markets only offers the WebTrader platform, which can be vulnerable to manipulation. Unlike industry-leading platforms like MT4, MT5, or CTrader, this odd WebTrader lacks essential features. 
It's crucial for traders to choose a broker with a robust and reliable trading platform for a good experience. 
Therefore, it's best to avoid Gainful Markets and Marketfxm, another unlicensed broker. Look for a broker that provides a reliable and industry-standard platform, allowing you to leverage the latest features and ensure a safe and secure trading journey.
General Trading Environment at Gainful Markets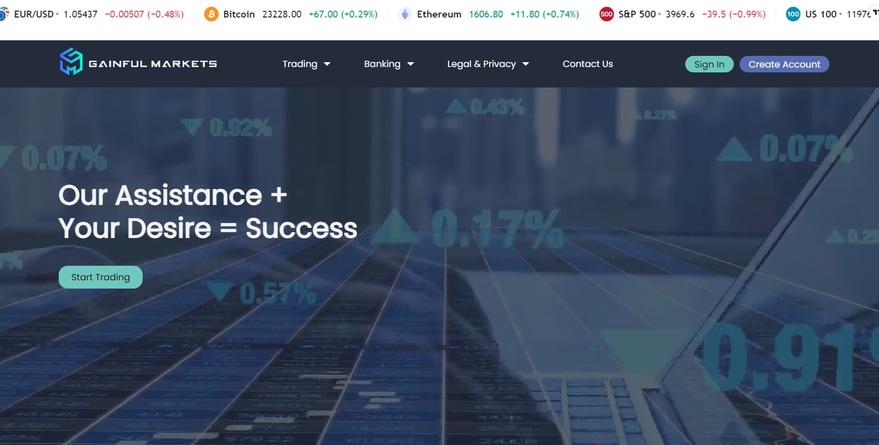 Gainful Markets offers tiered trading accounts, with better benefits for higher deposits. But, fraudulent companies often use this strategy to lure unsuspecting traders. 
The absence of a demo account is another red flag. Notably, it hampers traders' ability to test the platform before investing real money.
Gainful Markets Account Options
Gainful-Markets.com offers a range of account specifications. Let's look at each account type.
Basic Account:
Minimum Deposit: $250

Standard Leveraged Trading

Introduction to the Trading Platform

Personal Account Expert
Bronze Account:
Minimum Deposit: $3,500

Bronze Leveraged Trading

1 Insured Trade

Bonus Offer

Personal Financial Expert

Beginner's Educational Course
Silver Account:
Minimum Deposit: $10,000

Silver Leveraged Trading

4 Insured Trades

Bonus Offer

Personal Financial Expert

Standard Educational Course

Personal Financial Plan + Investment Strategy

Company Financing
Gold Account:
Minimum Deposit: $25,000

Gold Leveraged Trading

8 Insured Trades

Bonus Offer

Senior Financial Expert

Advanced Educational Course

Personal Financial Plan + Investment Strategy

Company Financing
Platinum Account:
Minimum Deposit: $50,000

Platinum Leveraged Trading

16 Insured Trades

Senior Financial Expert

Personal Financial Plan + Advanced Investment Strategy

Advanced Company Financing

Trading Signals

Order Notifications

Pre-order Premium Contracts

Access to Mutual Investment Plans

Current Trend Updates & Economic Events
Pro Account:
Minimum Deposit: $100,000

Pro Leveraged Trading

Personal Financial Plan + Premium Investment Strategy

Premium Bonus

Premium Company Financing

Daily Trading Signals Updates

Personal Order Notifications

Pre-order Exclusive Contracts

Access to Mutual Investment Plans

Current Trend Updates & Economic Events

Premium Customer Support
VIP Account:
Minimum Deposit: $250,000

Modified and Improved Program for the Platform's VIP Clients

Personal Expert Available at All Times to Address Your Trading Needs
Each account type comes with varying features and so-called benefits. It may look like they care about your trading goals and preferences. Remember to exercise caution and conduct thorough research before making financial decisions. 
Gainful Markets Bonus Options 
While Gainful Markets claims to offer bonuses to traders, the specific amount remains undisclosed. 
Moreover, there seems to be no partner program, and rewards for inviting referrals are non-existent. Transparency is crucial when it comes to bonuses, and the lack thereof raises suspicions. Keep this in mind. 
Gainful Markets Fees
Gainful Markets charges fees that vary depending on the type of account and services offered. While specific fee details are not available on their site, people should thoroughly review their fee structure before investing. 
As with any financial decision, understanding all associated fees is essential to avoid surprises in the future.
Autotrading
There is no mention of auto-trading services on the Gainful Markets platform. This might be a disappointment for traders who prefer automated trading strategies. 
Also, the absence of verified track records or independent audits raises doubts about such services' credibility. 
Note: Gainful Markets' training and signals remain uncertain. Considering the lack of verified qualifications and the unproven efficacy of their services, caution must be exercised. Traders should focus on education from reputable and reliable sources.
Beware of Suspicious Brokers: Protect Yourself
Watch out for suspicious brokers! These entities often employ cunning tactics to entice traders with unrealistic profit guarantees. They might withhold your withdrawals, making it difficult to access your funds when you need them most. Moreover, beware of high-pressure sales tactics, coercing you into investing more than you can afford. 
Protect your money by conducting thorough research on any broker you come across. Look for well-established brokers with a transparent regulatory history and positive reviews. Stay vigilant and never rush into decisions. By arming yourself with knowledge and caution, you can avoid falling victim to fraudulent brokers and ensure a safer trading experience.
Withdrawal Concerns: Unclear Policy Raises Red Flags
Depositing funds with Gainful Markets is straightforward via credit/debit cards and bank transfers. 
Yet, customers have faced challenges when trying to retrieve their funds due to unclear withdrawal policies and processing delays. Please keep this in mind. The lack of transparency about withdrawals raises legitimate concerns about the reliability of this broker.
Gainful Markets Support
Gainful Markets claims to provide convenient and responsive customer support. Traders can contact the support team through various channels for quick assistance. 
Yet, it's essential to maintain skepticism. Remember that an approachable customer support team doesn't guarantee broker legitimacy.
Trader Reviews
Traders' reviews on Trustpilot indicate a TrustScore of 2 out of 5 for Gainful Markets. The majority of reviews are negative, citing withdrawal issues and a lack of transparency. 
Nevertheless, online reviews can sometimes be misleading due to fake or biased contributions. It is important to do your research and take your time to evaluate a broker before investing. Ultimately, you should be confident in your decision before committing any funds.
Long Story Short – Gainful Markets
In summary, Gainful Markets raises several red flags that point to its status as a scam broker just like Match CFD. False office addresses, lack of regulatory authorization, multiple fraud warnings, and poor customer reviews all contribute to its dubious reputation. 
Traders are advised to conduct detailed research before considering this fake platform. It is essential to choose reputable brokers with verified credentials. 
If you need help choosing the right broker that fits your trading style and preferences, contact us today! We are here to provide you with personalized advice and find the best broker that meets your needs. Our team of experienced traders will be available to answer your questions and guide you through the process. Let us help you find the right broker today!
FAQ Section
What are Gainful Markets?
Gainful Markets is a scam broker operating without a license.
What Is Minimum Deposit with Gainful Markets? 
Gainful Market's minimum deposit rule is 250$ for the Basic account.
Are Funds Safe With Gainful Markets?
According to their website and legitimacy, Gainful Markets is not safe.