October 05, 2023
Reading Time:
5
min
Funding Pips Review: Can You Earn Money with Them?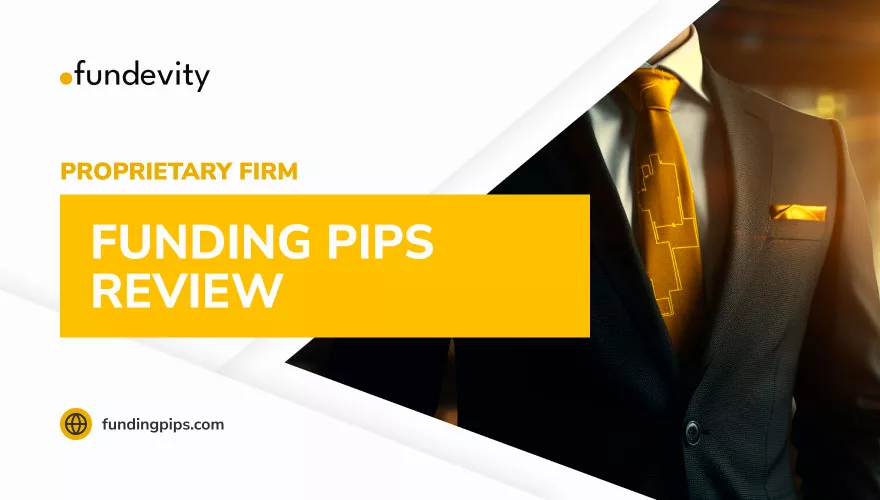 Funding Pips seems to be one innovative forex prop firm revolutionizing the trading landscape. 
In this Funding Pips review, we will hop into their offerings, guiding you through their evaluation process, trading assets, platforms, pricing, and support. Is Funding Pips legit after all? Let's find out, and understand what sets this prop firm apart from the rest. Keep reading!
General information
Name:

Funding Pips

Regulation status:

Unregulated / No regulation required 

Warnings from Financial Regulators:

No official warnings

Website link:

fundingpips.com

Active since

2022

Registered in

Business Park, DDP Dubai U.A.E

Contact info:
[email protected]
Trading platforms:

MT5

The majority of clients are from
India
United Kingdom
United States
Italy


Nigeria

Customer support:

Email, social media, chat, and contact form

Compensation fund:

No
Funding Pips Company Details – Who Are They?
Funding Pips, founded in Dubai in August 2022, is a prop trading firm committed to helping undercapitalized traders. 
In partnership with Black Bull Markets, they offer funding up to $2,000,000 with a profit split ranging from 80% to 90%. This is quite beneficial! 
Led by CEO Khaled Ayesh, Funding Pips now operates from their office in Dubai.
Funding Pips Trading Assets
At this FX company, traders can choose many different assets. Let's take a look at some of the trading assets now:
Forex pairs

like EUR/USD, USD/JPY, and GBP/USD

Commodities

such as gold (XAU/USD) and silver (XAG/USD)

Indices

like NAS100 and UK100

Cryptocurrency pairs

, including BTC/USD, 
You can check out the full list of the available assets on their website. 
Note: Another solid prop firm you can check out is FX2 Funding. 
Trading Platforms: Master Your Trades with MetaTrader
This prop business uses the innovative MetaTrader platform, specifically MT5. We all know that this one is popular for its amazing interface and advanced charting tools. 
If you appreciate the broader market access of MT5, Funding Pips makes sure you have everything you need. It wants traders to have the ideal tools at their fingertips, promoting confident and precise trading strategies.
Leverage
Also, this company includes 1:100 leverage.
But know that leverage in trading can be risky because it multiplies both potential gains and losses. Imagine you have $1,000 in your trading account, and you use 50:1 leverage. This means you can control a trade worth $50,000. 
While this amps up the chance for higher profits, it also means that if the trade moves against you by just 2%, you could lose all your initial investment. The speed at which currency prices fluctuate, combined with leverage, requires quick decisions. This rush can lead to impulsive actions and big losses, especially for traders who don't have a solid grasp of the market. 
So, without proper risk management, traders might end up losing more than they can afford. It's crucial for you to fully understand these risks.
Stages
First things first, this company has 3 pivotal stages. They are: 
The initial phase for traders starting their journey.

You get a demo account to practice trading, and you will be evaluated based on your performance.

Focuses on foundational learning and skill development.
Practitioner Stage

:

Intermediate level where traders refine their strategies.

A live account is provided for you to trade on, and your performance is evaluated based on final results.

Involves practical application of trading knowledge.
Master Stage

:

Advanced phase for seasoned traders.

Here, you are given a funded account and you must show consistency.

Focuses on mastery, advanced techniques, and consistent performance.
The company guides you through these stages with support at every step.
Tip: The Funding Pips login page, landing page, and logo are so user-friendly. We must admit that! 
Pricing and Funding
Funding Pips prop firm offers evaluation program accounts at various price points:
$5,000 for $32

$10,000 for $60

$25,000 for $139

$50,000 for $239

$100,000 for $399
To progress to the funded phase, traders must meet specific profit targets and stick to daily and overall loss limits. 
Upon success, traders receive payouts every five days, with a profit split ranging from 80% to 90%. Funding Pips also reward consistent traders with scaling opportunities, enhancing their earning potential.
Note: Funding Pips payout options were not disclosed on their web page. 
Rules: Setting the Standards Straight
The evaluation program at fundingpips.com comes with clear rules, as we mentioned before. Let's take a look:
Profit targets: 8% in phase one and 5% in phase two

Maximum daily and overall losses capped at 5% and 10%, respectively

Mandatory stop-loss on all positions, reset weekly
Funding Pips Affiliate Program
This prop firm has a solid affiliate program, allowing us to earn significant rewards by referring traders to their platform. Here are the key details:
Commission structure

. Earn a 5% commission when your referral purchases their first account. Besides, your referee receives a 5% discount on their initial purchase, making it a win-win situation.

Easy tracking

. Monitor your earnings effortlessly through the UI-friendly dashboard available on the Funding Pips app. This transparent system ensures you're always aware of your referral activities and earnings.

Promotion made simple

. Get a unique affiliate link automatically upon purchasing any challenge on the Funding Pips app. This link enables you to promote the firm easily on various social media platforms.

Cookie-based system.

Even if your referral doesn't make a rapid purchase, a special cookie is set on their device. It ensures you still receive the commission if they buy within 30 days.
As you can see, their affiliate program is a solid way to earn rewards by sharing the platform with others.
Reviews on Trustpilot: Trust the Voice of Experience
According to Trustpilot, Funding Pips has an impressive 4.8-star rating, indicating high satisfaction among traders. Many traders had only positive experiences with the platform, especially the dashboard (we can agree on that). 
It's crucial to choose safe companies with ratings above 4.5 stars to ensure a safe trading environment. This is a must! 
Funding Pips Support – Your Queries, Their Priority
It's time to talk about customer support here! This prop trading firm extends its support through many social media channels and a comprehensive FAQ page. 
You can reach out to their team via Facebook, Instagram, YouTube, Twitter, Discord, or email ([email protected]) for quick assistance.
Can I Make Money From Online Trading?
Indeed, online trading can be lucrative with the right knowledge and tools. What are those tools? That is where we come in! 
First things first, we offer free consultations for your needs specifically. 
And what's more, there's our AI Analysis Bot, a smart tool designed to enhance your trading decisions. With advanced predictions and amazing insights, our bot empowers you to make better choices. Join us for our upcoming launch, and enjoy a 20-day free trial, including 5 FX analysis reports and 5 stock analysis reports per month.
Note: Still, keep in mind that InsideOption is a suspicious company that you should avoid. It received a warning from CySEC.
Conclusion
Ultimately, Funding Pips stands as a solid opportunity in the forex trading sphere. With transparent evaluation processes, diverse assets, and robust support, they can help beginner traders thrive. 
You can truly embrace the future of trading with this company. As you can see, they have an outstanding platform and solid trading rules. 
FAQs
Is Funding Pips Legit?
Yes, Funding Pips is a safe forex prop firm based in Dubai, offering substantial funding opportunities.
Are Funds Safe With Funding Pips?
Your funds with Funding Pips are secure. But keep in mind that trading involves risk.
What Are The Funding Pips' Offered Platforms?
Funding Pips primarily uses the industry-standard MT5 platform.