September 23, 2023
Reading Time:
4
min
FXIFY Review: Trading Freedom and Interesting Options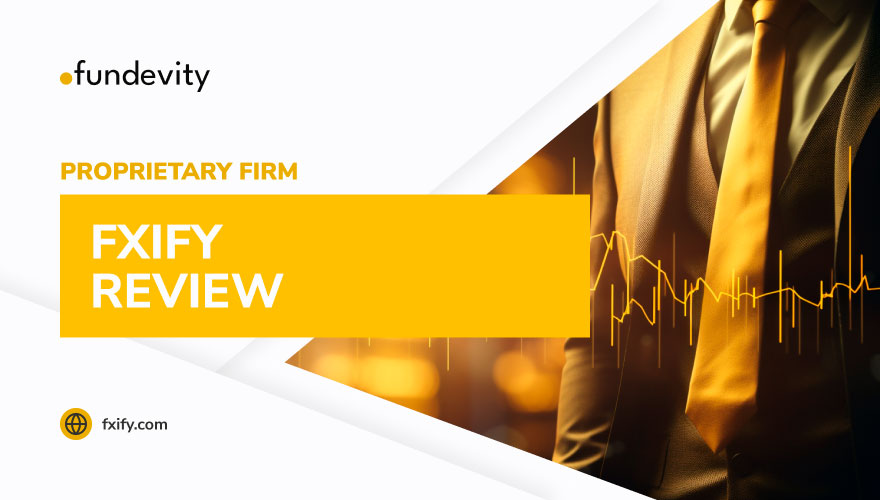 In the pursuit of the perfect trading platform, one name that stands tall is FXIFY prop firm. In this informative FXIFY review, we'll make sure that we cover all the essential details that need to be covered. So, is FXIFY legit or not? Stay tuned to find out! 
General information
Name:

FXIFY

Regulation status:

Regulation not required

Warnings from Financial Regulators:

No official warnings

Website link:

fxify.com

Active since

2023

Registered in

London, UK

Contact info:

Data is hidden

Trading platforms:

MT4 & MT5

The majority of clients are from

Pakistan

India

United Kingdom 

United States 

Malaysia 

Customer support:

Twitter, chat, and contact form 

Compensation fund:

No
Meet the FXIFY Team
First things first, this prop firm is based in London, UK. At the core of FXIFY, there's a team of seasoned experts with over 30 years of combined trading and brokerage experience. 
Their work through the trading landscape gives them a unique perspective, and they're here to offer guidance. Evidently, they're all about building strong, lasting relationships with their clients.
This journey through the often unpredictable trading landscape has gifted the FXIFY team with a perspective that sets them apart. It's not just about numbers and strategies for them. They want to know everything about financial markets on a profound level. 
FXIFY – Your Trading, Your Way
FXIFY believes in the individuality of every trader. They give you the freedom to shape your trading experience according to your unique preferences and goals. 
Are you a risk-taker or a cautious strategist? This prop firm provides you with the tools to formulate a trading environment just for you. 
Note: Topstep is another company with a good reputation that you can check out! 
A Variety of Trading Assets
When you're trading with FXIFY, you're not confined by limitations. How?
They open the doors to over 300 trading instruments, spanning stocks, crypto, indices, and forex. 
Moreover, they've made trading forex, gold/metals, and indices commission-free. Notably, this assures that more of your profits stay right where they belong – in your pocket. This is highly beneficial, by all means. Note that they give $400,000 in proprietary funds after you pass a series of tests.
UI-Friendly Trading Platforms
In collaboration with FXPIG, a trusted broker since 2010, FXIFY gives you the user-friendly MetaTrader 4 (MT4) and MetaTrader 5 (MT5) platforms. 
While MT4 has been the go-to platform for traders worldwide, MT5, its advanced sibling, comes with an array of extra tools and technical indicators that suit the evolving needs of traders. With nearly 80% of traders globally favoring these platforms, you're in good company.
Note: Be cautious with Pmcrypto, as there are doubts about the safety of your money. It's advisable to explore other options to protect your funds.
Exploring the FXIFY Evaluation Process
FXIFY doesn't offer just one, but two evaluation programs: 
the 1-phase and 

2-phase evaluations. 
These programs are designed to suit traders of all skill levels and risk appetites. In the 1-phase evaluation, you set your sights on a 10% profit target within 30 days, with the option to remove the time limit. Besides, a daily loss limit of 5% is in place, guaranteeing your investments are safe.
Remember: The 2-phase evaluation offers you the flexibility to proceed at your own pace. Achieve your objectives in a swift 20 days or take your time, the choice is entirely yours.
Flexible FXIFY Payout Methods
When the time comes to withdraw your gains, FXIFY provides a spectrum of flexible payment methods. You can opt to receive your funds in cryptocurrency, or you can use Deel, a platform that offers multiple solid options, including bank transfers, Skrill, PayPal, and various crypto coins. 
They are truly committed to providing you with convenience throughout the FX journey. Moreover, FXIFY maintains a transparent fee structure, with fees ranging from $175 to $1,999, depending on your initial capital. Let's take a look at the FXIFY fees in more detail: 
Evaluation Fee

: This is a one-time fee covering the challenge and verification process. It varies from $99 to $325, depending on your account size.

Assessment Fee

: Another one-time fee, ranging from $175 to $1,999, which is based on the capital access needed. As you require more funding, the pricing may increase.

Monthly Fee

: The good news is that FXIFY doesn't charge any recurring monthly fees.

Prepaid Branded Card Program

: In the near future, FXIFY plans to introduce a prepaid branded card program for funded traders. This program will provide immediate access to your profits, without relying on third-party services.
Restrictions 
Here's what you can expect when working with FXIFY:
EAs Allowed

: FXIFY supports the use of Expert Advisors (EAs), which can be a game-changer for those looking to automate their strategies. This means you can leverage technology to optimize your tactics, enriching overall performance.

Hold Over the Weekend

: Unlike certain other prop firms, FXIFY provides people with the flexibility to maintain open positions over the weekend. This lets traders align their trading approach with their exact style.

No Consistency Rules

: FXIFY places no consistency rules on your trading activities. In other words, this means you're not constrained by rigid requirements and can trade at your own pace.

No Mandatory Stop Loss

: FXIFY does not require the use of stop loss orders for your trades. This grants traders a greater degree of control over their risk management, permitting decisions based on personal analysis.
FXIFY's devotion to fewer trading restrictions aims to create a solid foundation for trading. 
FXIFY's Trustpilot Reputation
FXIFY takes huge pride in its Trustpilot reputation, showing an impressive rating of 4.3/5.0 based on over 97 reviews. 
This solid rating speaks volumes about the trust and satisfaction of the FXIFY community. This simply proves their commitment to providing traders with top-notch service and support, assuring you that you're covered.
Note: When dealing with OrbitGTM, stay alert, as there are concerns regarding the security of your assets. 
Simplifying Online Trading
Online trading holds the promise of profitability. Still, it's a domain that demands the right knowledge and tools. 
That is why we are here to offer free consultations to assist you in making wise decisions. But that's not all! We have also introduced an AI Analysis Bot, a useful trading companion. 
This intelligent tool leverages advanced predictions to guide your trading decisions. And the best part? You can explore it for free with a 20-day trial that includes access to 5 FX reports and 5 stock reports per month.
Final Words
All in all, FXIFY stands as a solid option in the world of prop trading. They encourage traders to craft a personalized trading journey. It doesn't matter if you're new to trading or not. 
Their diverse range of trading assets, reliable platforms, and challenges make them a truly appealing choice. Also, let's not forget about their outstanding Trustpilot rating. So, are you ready to undertake this thrilling journey with FXIFY and explore the world of prop trading? It's an opportunity to make solid financial choices. Also, if you need any assistance, you can always contact us for free consultations. 
FAQs