September 19, 2023
Reading Time:
5
min
GBE Brokers Review: Is This the Right FX Broker for You?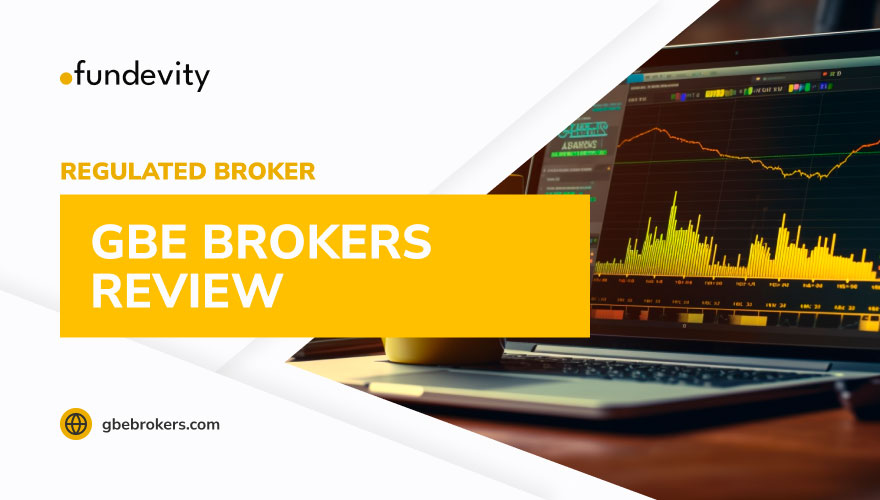 Do you need a solid and trustworthy broker for your trading discipline? Look no further. GBEbrokers, formerly known as GBE Safepay Transactions Ltd, has been serving the trading community since 2007. 
This GBE Brokers review will provide you with all the essential info you need to decide whether GBEbrokers is the right fit for your needs. We'll cover their legitimacy, trading assets, platform options, account types, partnerships, deposit methods, and more. Keep reading!
General information
Name:

GBE brokers Ltd.

Regulation status:

Regulated by CySEC and FCA

Warnings from Financial Regulators:

No official warnings

Website link:

https://gbebrokers.com/

Active since

2016

Registered in

Cyprus

Contact info:

[email protected]

, +357 25 281736, +49 40 605 90 10 30

Trading platforms:

MT4 & MT5

The majority of clients are from

Germany 

Austria 

Switzerland 

Cyprus

United Arab Emirates

Customer support:

Email, phone, chat, and contact form – 24/7

Compensation fund:

Yes
GBE Brokers Legitimacy and Details
Is GBE Brokers CySEC regulated? GBEbrokers Ltd. is a reputable brokerage regulated by the Cyprus Securities and Exchange Commission (CySEC) under CIF license number 240/14. 
Besides, it is registered in the EEA by the Financial Conduct Authority in the United Kingdom. Trading with Tier 1 regulated brokers like GBEbrokers gives you a secure trading environment, backed by strict regulatory oversight.
Tip: GBE Brokers market maker – yes or no? Yes, GBE Brokers is a market maker that offers many trading services. 
Trading Assets Available
When it comes to trading, having a wide variety of options is crucial. GBEbrokers understands this well, and they've put together an impressive collection of over 70 different things you can trade. This includes:
Forex

: At GBEbrokers, you can dive into the world of FX trading. You can trade EURCHF, USDCHF, and more. Forex is all about exchanging one currency for another, and it happens all over the world. It's a dynamic market where you can speculate on the value of different currencies.

Crypto:

If you're interested in digital money like Bitcoin or Ethereum, GBEbrokers has you covered. Crypto assets have become quite popular recently, and you can try your hand at trading them here.

Metals:

GBEbrokers allows you to trade precious metals like gold and silver. These have been valuable for a long time, and you can join in on the action by speculating on their prices.

Indices

: Stock indices represent groups of big firms from different markets. They're like benchmarks for how well certain industries or regions are doing. GBEbrokers lets you get in on trading these – AUS200, STOXX50, JP225, and more.

Bonds:

Bonds are kind of like loans that governments and companies take out. You can trade them too, and GBEbrokers gives you the chance to do just that. 

Commodities:

Just like you can trade currencies and bonds, you can also trade goods like corn, oil, and metals. These are called commodities, and GBE Brokers Ltd. offers them.

Energies

: Energy markets can be pretty wild, with prices changing a lot because of politics or environmental events. GBEbrokers lets you try your hand at trading energy resources.

Shares:

If you're interested in buying a piece of a company, GBEbrokers allows you to do that too. You can trade shares, which represent ownership in different companies.
GBEbrokers really wants to make sure you have plenty of options to choose from. Whether you're just starting out or have been trading for a while, this variety of things to trade gives you the chance to explore and build your trading portfolio.
Platform Options: MetaTrader 4 and MetaTrader 5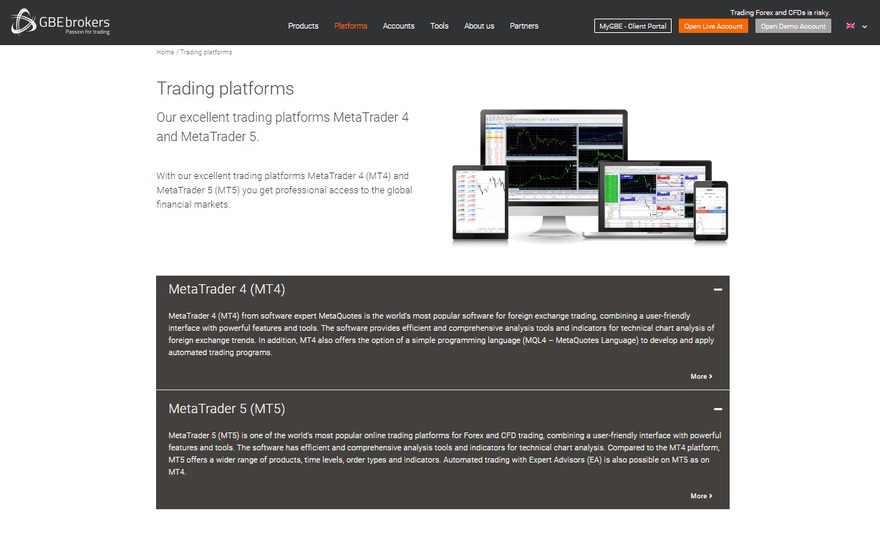 GBEbrokers provides access to both MetaTrader 4 and MetaTrader 5. So, are GBE brokers MetaTrader 4 and MT5 reliable? Indeed! 
MetaTrader 4 offers faster performance and direct access to the interbank market, providing real-time order execution with minimal latency. 
On the other hand, MetaTrader 5 offers advanced trading functions and over 80 built-in technical indicators for deep price analysis. Both platforms are available on various devices, including desktops, Macs, iPhones, iPads, Android, and tablets. 
Besides, GBEbrokers offers VPS services for automated trading strategies. This is quite beneficial. 
Trading Environment at GBE Forex Broker
Trading with GBEbrokers comes with solid spreads starting at 0.7 and 2 pips in traditional accounts. 
Still, raw accounts offer spreads starting at 0.0 pips. This makes it an attractive option for those looking to minimize trading costs.
Note: Be mindful when considering Oinvest, as there have been concerns about their reliability.
Account Types: GBE Classic and GBE Plus
GBEbrokers offers 2 distinct account types: the GBE Classic account and the GBE Plus account. Besides, they provide a risk-free demo account for those looking to practice their trading skills. 
To open a GBEbrokers Professional live trading account, a minimum deposit of $1,000 is required.
Keep in mind that as a unique GBE brokers bonus, they included the GBE VIP account. 
Partnership Opportunities
GBEbrokers offers 2 options: the Introducing Broker Program and an Affiliate Option. 
Introducing Brokers can earn up to 40% of the broker's revenue for every active trader they bring. This provides a potential source of income for those looking to expand their involvement in the industry.
Note: It's advisable to stay away from TradeUP due to suspicions surrounding their business practices.
Earning & Withdrawal Options
GBEbrokers firm requires specific minimum deposits for different account types. These range from €1,000 to €100,000, depending on the account you choose. You can fund your account or make withdrawals through various methods, including Hellenic Bank Cyprus, Astro Bank, Sutor Bank Germany, cards, Neteller, Skrill, and PayPal (for EU residents). 
Most transactions are finalized within 24 hours, except for bank transfers, which may take 1 to 4 business days. It's important to note that the bank account holder's name must match the GBEbrokers trading account holder's name for successful transactions.
Trader Reviews on Trustpilot
GBEbrokers has an excellent star rating on Trustpilot – 4.8 stars. This is obviously well-deserved! Notably, this proves their trustworthiness as a broker. 
We know that the positive reviews from traders indicate a strong reputation in the trading community. So, it's best to choose brokers that have a 4.5-star rating or more, like this one! 
Note: ETX Capital (also known as OvalX) is also regulated by the UK Financial Conduct Authority (FCA). 
Can I Make Money From Online Trading?
Certainly! Online trading can be profitable, but it's not a guarantee. It takes knowledge and the right tools. But we're here to help with free consultations and our new AI Analysis Bot.
Our AI Analysis Bot simplifies research by providing trading advice based on predictions, not just gut feelings. When you use our AI Analysis Bot, you'll truly have an edge in your trading. It's customizable, so you can adjust your charts and strategies as you like. Plus, it offers analysis reports for both forex and stock markets, giving you valuable insights.
To let you try it out, we offer a generous 20-day free trial with no initial payment required. During this trial, you'll have access to five forex analysis reports and five stock analysis reports each month.
Long Story Short – GBE Brokers
So, GBEbrokers stands out as a regulated, diverse, and reliable brokerage option for us. With a range of trading assets, solid platforms, and more, it suits all traders. 
The positive Trustpilot reviews affirm its legitimacy, making it a promising choice for your trading. Make the smart choice today and consider GBEbrokers for your trading needs.
FAQs
Is GBE brokers legit?
Yes, this is a popular and legitimate broker with a terrific reputation.
What is the minimum deposit for GBE brokers?
To open a GBEbrokers live trading account, a minimum deposit of $1,000 is needed.
Can I withdraw my funds from gbebrokers.com?
Yes, you can withdraw easily using different payment options.