October 06, 2023
Reading Time:
4
min
GoldenCoins Review: Stay Away from This Fraudulent Business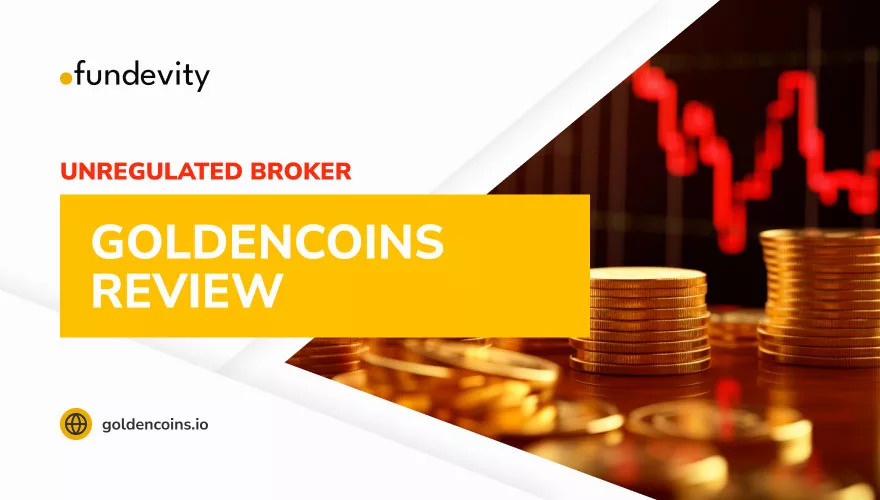 Many investors wonder if GoldenCoins is a scam. Can you really trust them with your money? Let's address these concerns and hop into the intricacies of this trading firm in our comprehensive GoldenCoins review. Read on to discover more valuable details! 
General information
Name:

GoldenCoins and Star Mkt Lt

d

Regulation status:

Unregulated Broker

Warnings from Financial Regulators:

No official warnings

Website link:

goldencoins.io

Active since

2022

Registered in

London, UK (Allegedly) 

Contact info:

Data is hidden

Trading platforms:

n/a

The majority of clients are from
United States
India
Canada
United Kingdom


Indonesia 

Customer support:

n/a

Compensation fund:

No
GoldenCoins – Basic Details and Regulation
GoldenCoins is an unregulated forex broker, lacking a real address. From what we could see, it has a broken website. 
While their Terms and Conditions mentioned ownership by Star Mkt Ltd, the company's details are hazy. Also, the absence of regulation from FCA, CySEC, or ASIC is extremely suspicious. Keep in mind that regulatory bodies provide a safety net for traders, guaranteeing their assets are secure. Always choose Tier 1 regulators over others, for the best possible security. 
Why Regulation Matters?
You must know that regulation is the cornerstone of a reliable FX company. 
Firms regulated by authorities such as FCA, CySEC, BaFIN, or ASIC work by strict guidelines, protecting our funds. 
They maintain segregated accounts and participate in capital insurance schemes. These are amazing as they intensify security. Unlike unsafe brokers, these regulated firms truly prioritize the safety of your investments.
Trading Assets Available – Limited Transparency
This firm claims to offer a variety of assets, including FX currency pairs and cryptocurrencies. However, their broken website prevents us from verifying these claims now. 
In contrast to that, reputable brokers provide extensive options, such as:
FX, 

commodities, 

metals, 

stocks, 

ETFs, 

bonds, and 

cryptocurrencies
This really allows investors to explore different opportunities.
Trading Platforms at GoldenCoins
This broker promises a professional web-based platform for trading. Still, clearly, specifics are absent. After all, it's best to avoid this company altogether.
Know that most reliable brokers offer platforms like MetaTrader 4 and MetaTrader 5, preferred by 80% of clients. These platforms provide superb interfaces, advanced tools, and a number of technical indicators. This guarantees you plenty of options.
Note: AssetsTrade is a suspicious trading company that has many negative reviews online. Beware of that. 
Trading Environment and Hidden Risks
Details regarding GoldenCoins' trading accounts, spreads, and leverage remain unknown, leaving us in the dark, again. 
This lack of transparency raises suspicions about the terms and potential hidden costs. We all know that properly managed leverage is essential, but misused, it can lead to big losses. This is a harsh reality. 
EU and UK laws cap leverage at 1:30. This underlines the importance of choosing regulated firms with transparent trading conditions.
The Website and Support
GoldenCoins' broken site tells you everything. 
A reputable broker's website serves as a reliable source of data, instilling confidence in clients. That is everything that this fake trading company lacks.
Besides, efficient customer support is fundamental, ensuring timely responses to questions and concerns. GoldenCoins falls short in both areas, leaving traders distrustful and unsupported.
Tip: Duplikium's trade copier acts like your smart assistant, automating your trades and handling several accounts effortlessly. Give it a try and see the difference!
Withdrawal and Funding Policy
When it comes to withdrawing your funds, there are specific details you need to be aware of. If you choose to use a card, the minimum withdrawal amount is 100 USD. Yet, if you opt for a wire transfer, the minimum withdrawal amount is higher, set at 250 USD. 
The worrying aspect is the lack of transparency regarding fees and additional terms. Many fake platforms often spring up unpleasant surprises, such as hidden fees and vague terms.
Moreover, this firm enforces fees related to account inactivity. If your account remains dormant for 60 days, you'll be charged a one-time fee of 200 USD. Subsequently, a monthly fee of 90 USD is applied. And reactivating such an inactive account requires an extra payment of 100 USD. This is just outrageous!
It's crucial to note that these fees and unpredictable policies can severely impact your experience. You should avoid platforms like the GoldenCoins scam that lack transparency and impose fuzzy fees.
Remember, a legitimate broker provides clear and concise withdrawal terms, ensuring you know exactly what to expect when accessing your funds. Also, legit brokers offer transparent payment methods, including established e-wallets like PayPal, Apple Pay, Skrill, and Neteller, providing clients with clear and secure options.
If you're unsure about the withdrawal policies of a trading platform, it's always wise to seek advice from trustworthy sources. For instance, you can always contact us for a free consultation!
Reviews on Trustpilot: Average Rating
GoldenCoins' Trustpilot reviews show an average rating of 3.3 stars, reflecting a lack of satisfaction among users. Some of the positive reviews indeed seem fake. 
Opting for brokers with stellar ratings (4.5 stars and above) from reputable platforms ensures a more reliable and fulfilling experience. The experiences of others serve as valuable guides, helping you make smarter decisions.
Note: OctaFX Signal is a scam with a warning from FCA. Be extremely cautious about them!
Suspicious Broker Tactics
Fake brokers often use deceptive tactics, including enormous fees, fake websites, and misleading messages. 
Also, scam FX signals and EAs promise quick riches but lead traders into danger. Avoiding these traps and going for brokers with Tier 1 regulations, as we mentioned before, ensures a secure journey.
Can I Make Money From Online Trading?
While trading offers profitable opportunities, it requires expertise and the right tools. This is where we come in! 
Keep in mind that we provide free consultations to guide you. Also, there's our AI Analysis Bot, an innovative tool that simplifies your research. Unlike intuition-based decisions, our bot uses advanced predictions to offer valuable trading advice. 
Join our upcoming launch for a 20-day free trial, and boost your trading strategies. Hurry as spots are limited! 
Final Words: Protecting Your Financial Future
In the complex domain of Forex trading, goldencoins.io stands as a big warning sign. Its lack of transparency, broken promises, and elusive nature create an environment full of risks. 
Avoiding such firms isn't just advisable. Still, that is truly essential to protect your financial future. For personalized guidance in choosing the best trading company, contact us for a free consultation. Your financial safety is our priority, and we're here to help you on this intricate journey!
FAQs
Is GoldenCoins Legit?
No, GoldenCoins lacks regulation and transparency.
What assets are available with GoldenCoins?
Due to its broken website, asset verification remains impossible.
Can I withdraw my funds from goldencoins.io?
You can try to withdraw. But they may try to stop the entire process.