July 13, 2023
Reading Time:
6
min
Goldnrise Review: Discover the Dark Side of Goldnrise Scam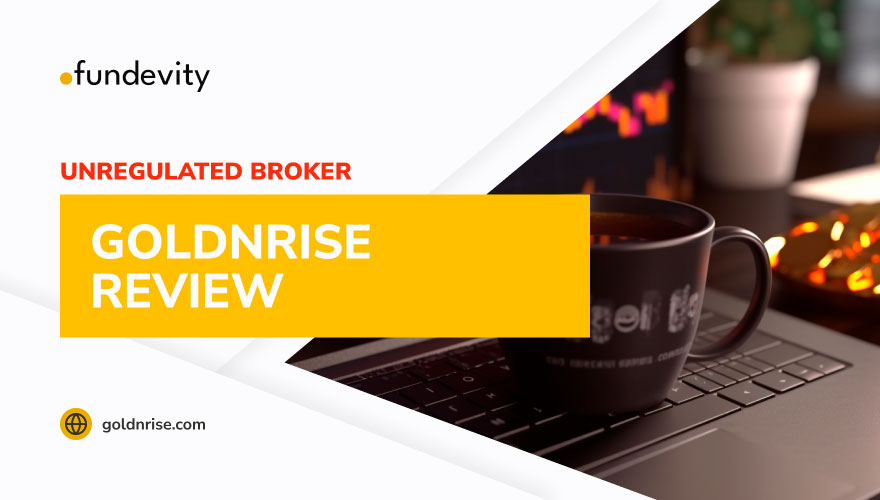 Are you tired of dealing with fraudulent brokers? Have you become weary of reading deceptive positive reviews that only lead to disappointment? If so, keep reading!
Understanding the risks that can jeopardize your assets is crucial in this line of business. GoldNrise, a broker that promises enticing opportunities, conceals a dark side that can devastate you.
Throughout this Goldnrise review, we will unravel the truth and expose GoldNrise's deceptions. Stay tuned! 
Regulation and Security: Evaluating GoldNrise's Claims
GoldNrise claims to be managed by IOS Investments LTD. It also claims that it holds registration and licensing in Belize. But, being listed on the Belize offshore companies registry does not grant them a real license. 
Belize's regulatory authority is the International Financial Services Commission (IFSC). Interestingly, a search for IOS Investments on the IFSC licensed providers list did not yield any results. That raises significant doubts about the GoldNrise licensing claim. It also suggests they may be deceptive.
Regulatory licenses are crucial for establishing brokers' credibility and accountability. Without a valid license, investors are not protected against fraud or misconduct. When dealing with brokers like GoldNrise or AxianceFx, investors should exercise extreme caution. 
Lack of proper licensing exposes clients to financial risks and scams. It is always advisable to choose brokers who are transparent about their regulatory status. Try to find a broker who holds valid licenses from reputable financial authorities.
General information
Name:

IOS Investments LTD

Regulation status:

Unregulated Broker

Warnings from Financial Regulators:

No official warnings

Website link:

https://goldnrise.com/

Active since

2023 (2022 for domain age)

Registered in

40 Bowling Green Ln, London EC1R 0NE, UK

Contact info:

[email protected]

,

+

18194843324

Trading platforms:

MT5

The majority of clients are from:

Canada, United Kingdom

Customer support:
Yes (24/5 [email protected])
Compensation fund:

No
Skepticism Required: Evaluating Goldnrise.com's Asset Variety
Goldnrise.com brags about its asset variety. Yet, it's wise to approach this claim with a healthy dose of skepticism. The platform allegedly offers a broad range of assets. Those include stocks, commodities, indices, and cryptocurrencies. This entices traders with the promise of diversifying their portfolios and minimizing risk. 
Yet, it is crucial to delve deeper into the quality and reliability of these assets. Are they legit? Can traders trust the platform's selection? These questions must be addressed before accepting the purported benefits at face value.
It's worth noting that not all platforms are equal in asset selection and quality. Traders need to exercise caution and research the platform's track record. This is particularly true for asset performance, reliability, and regulation. Know that diversification alone doesn't guarantee risk reduction. Traders need the expertise to manage diverse portfolios. And relying blindly on asset variety can be financially harmful.
In summary, while GoldnRise.com may boast about its asset variety, traders must approach this claim with a critical mindset. Thorough due diligence, including researching the platform's reputation and assets, is essential. Try to remember that.
Dubious Trading Software Offered by Goldnrise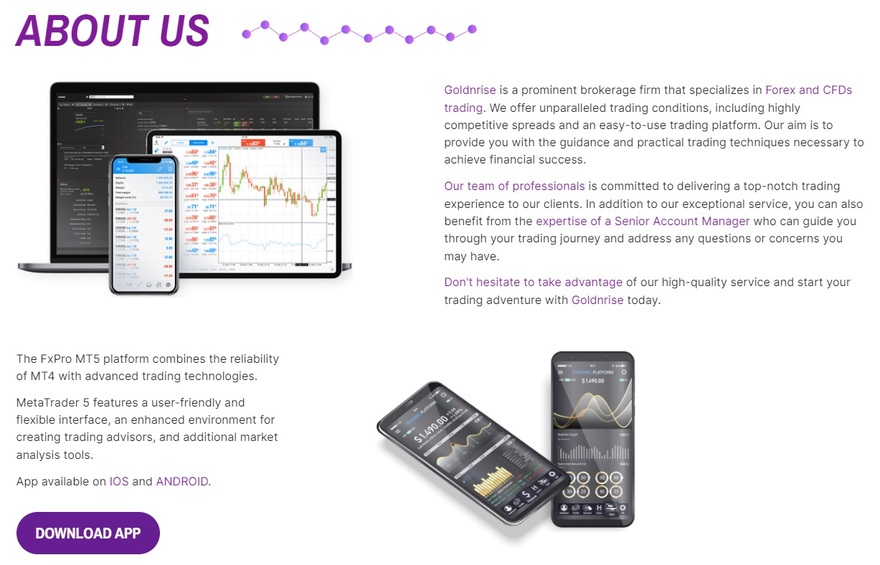 When we examined GoldNrise's trading terminal, their choice left us puzzled. They claim to offer FxPro's MT5, which is highly questionable. It's important to clarify that MT5 does not belong to FxPro; it was developed by MetaQuotes Ltd. Brokers like FxPro simply acquire a license to use the platform. To add to the confusion, GoldNrise encourages users to download a useless app. Interestingly, GoldNrise is absent from MetaQuotes brokers. 
Instead, in GoldNrise's Client Portal, you will find a link to a functional conventional web trader. An unauthorized offering of trading software raises serious concerns about GoldNrise's intentions. Traders must be extra mindful and wary of questionable software. It can pose extreme risks to investments and personal information.
Misleading Trading Conditions: Goldnrise's Lack of Transparency
Many brokers exaggerate their trading conditions. And that leads to unrealistic expectations and financial losses for traders. 
So, this fosters a culture of distrust within the industry, where traders perceive brokers as untrustworthy. Unfortunately, GoldNrise aligns with this trend.
Account Types
It is critical to understand that GoldNrise is a standard CFD broker, offering nothing beyond that. The GoldNRise app offers the following types of trading accounts:
Entry

Basic

Silver

Gold

Platinum
But, crucial information about spreads and commissions for each account is absent. This lack of transparency is concerning. It leaves traders unaware of the true costs associated with their trading activities. Another drawback is that they do not offer a demo account. 
GoldNrise claims to provide smart money management and trading insurance. Yet, it is worth noting that trading insurance is not a recognized concept on the market, raising doubts about its legitimacy. 
Besides, GoldNrise offers education and market analysis services. Still, traders should approach GoldNrise's claims with caution. 
Market Analysis and Education With Goldnrise.com
Besides its other services, Goldnrise.com claims to provide education and market analysis. That includes help in creating long-term investment portfolios. Yet, there is a significant drawback to consider. All individuals involved in these services remain anonymous. It is highly unlikely that they have the necessary qualifications as financial analysts. It is essential to question the quality and reliability of their analysis.
Traders should be cautious when relying on anonymous analysts' expertise. It is crucial to seek out trusted sources with proven qualifications and experience in the field.
Leverage
Offering leverage up to 1:500, GoldnRise presents traders with a potent tool to amplify their profits. Yet, it is crucial to recognize that leverage enhances gains, but also escalates risk. Traders must exercise caution and comprehend the high-leverage implications. 
While it offers larger returns, it also exposes traders to increased losses. Proper risk assessment is essential when utilizing such large leverage.
Special Bonuses and Partnership Program
GoldNrise offers bonuses and a partnership program, based on the chosen account. 
Yet, withdrawing these bonuses is challenging due to specific conditions that must be fulfilled. Furthermore, regulatory bodies view this practice unfavorably.
GoldNrise Payout: Lack of Clarity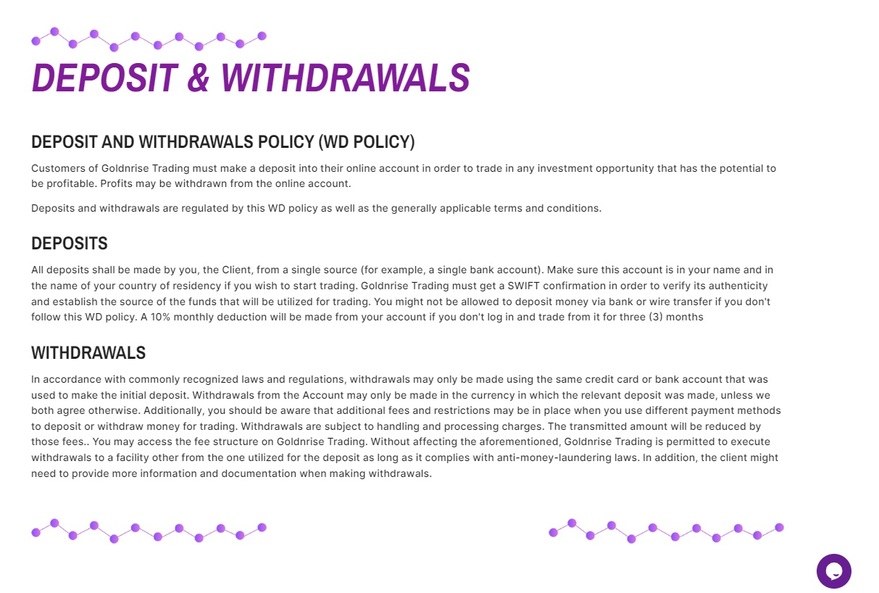 GoldNrise lacks specific information on deposit methods. Deposits and withdrawals can be made through credit cards and bank transfers. Besides, GoldNrise states that customers may receive commissions. Yet, the precise amounts of these fees are undisclosed, leaving traders in the dark.
The absence of clear details about deposit methods and associated fees raises concerns. Traders know nothing about GoldNrise's potential costs. Traders need to understand fees to make informed investment decisions. Brokers must provide clear and detailed information about deposit and withdrawal processes. Traders should exercise caution when dealing with brokers who do not provide that information.
24/5 Customer Support
Round-the-clock Goldnrise support, available five days a week, ensures traders can seek help whenever needed. This is quite surprising for a broker scam. 
Fast support reduces anxiety and provides peace of mind, knowing that questions will be promptly addressed. Yet, it means nothing if presented by a fake firm. 
Protecting Your Assets from Fake Brokers: Scam Tactics Disclosed
Understanding scam tactics is crucial. Fake brokers employ various strategies to deceive traders. They often resort to misleading advertising and use flashy marketing techniques to attract clients. Also, these brokers may impose excessive fees and hidden charges without clear disclosure. 
Improper trade execution and price manipulation are also common tactics that harm traders' profitability. To save your assets, it is vital to choose reputable brokers with transparent practices. Try your best to avoid suspicious entities like AXCapital. By staying cautious, you can navigate the forex market wisely and avoid scams.
Traders' Feedback on Goldnrise
Traders have expressed concerns and dissatisfaction with GoldNrise. Many have reported deceptive practices, including misleading bonuses, anonymous analysts, and fake reviews. 
Traders have raised questions about the lack of transparency regarding fees and the undisclosed Goldnrise withdrawal conditions. Still, there are no Trustpilot reviews for this company. Overall, the feedback suggests caution and skepticism when dealing with GoldNrise. 
Note: Always look for relevant feedback when dealing with suspicious companies like AUXCapital or Goldnrise.
Long Story Short – Goldnrise
This honest review exposes the Goldnrise scam tactic. Traders must stay informed to protect themselves from fraudulent activities. Fake assets, undisclosed fees, and dubious trading software are factors to consider. Besides, think of the need for transparency, experienced analysts, and legitimate payout. 
Traders should always do their research and read reviews before investing in any online platform. They should also be wary of promises of high returns and aware of online trading risks. It is important to remember that there is no risk-free investment, and traders should only invest what they can afford to lose. 
It is also advisable to diversify one's investments and seek professional advice when necessary. Yet, if you need help choosing the right broker, contact us today!
FAQ Section
Is Goldnrise Legitimate?
No, Goldnrise is not legit. They operate without the required licenses.
How to get Money Back from Goldnrise?
Contact our team for help and free consultation regarding recovering funds from Goldnrise.
How Do I Withdraw Money From Goldnrise.com?
Unfortunately, it is not possible to withdraw money from goldnrise.com as it is a scam broker.