November 18, 2023
Reading Time:
4
min
Tradervue Review: The Social Side of Trading Revealed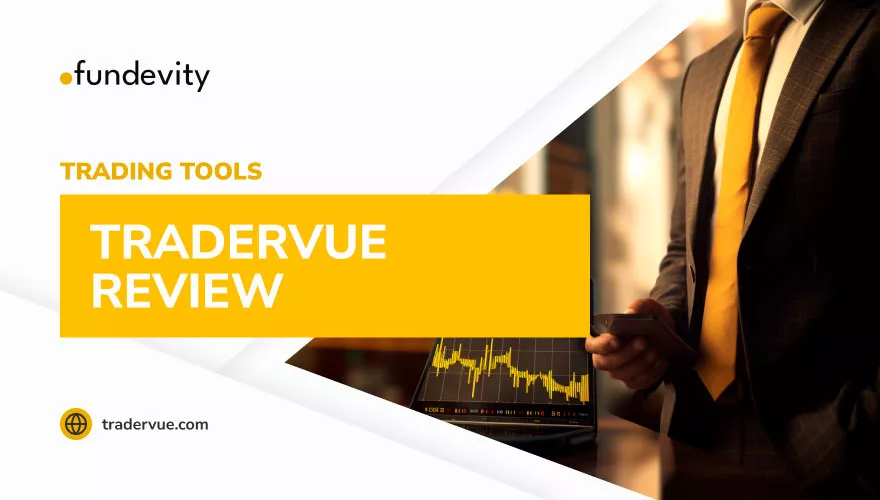 Buckle up as we're about to spill the beans on Tradervue, the hero of trading journals. If you've ever struggled to keep tabs on your trades, you're in for a treat. This Tradervue review is your backstage pass to the trading world! Keep reading for more intriguing facts! 
| | |
| --- | --- |
| | General information |
| Name | Tradervue SSC LLC |
| Type of company | Trading Tool |
| Regulation status | Unregulated/Not expected |
| Warnings from Financial Regulators | No official warnings |
| Website link | https://www.tradervue.com/ |
| Active since | 2011 |
| Registered in | Colorado, United States |
| Contact info | [email protected] |
| Trading platforms | cTrader, MetaTrader 4, MetaTrader 5, MotiveWave, NinjaTrader, etc. |
| Majority of clients are from | United States, Canada, United Kingdom, India, Germany |
| Customer support | Email and contact form  |
| Compensation fund | No |
About Tradervue
TraderVue is like the perfect blend of a trading journal and a social media hub designed exclusively for the trading community. With this firm, you not only keep track of your trading adventures but also get to share your trade history with traders worldwide. 
We can say this is your go-to platform for combining the best of both worlds – a personal trading diary and a social space for traders. No more headaches from manual data entry! This company lets you trade with ease. 
From Ideas to Trading History
Back in 2011, Greg Reinacker, a trader with a mission, created Tradervue to study his trading history. What started as his secret weapon became a gift to the trading community.
This one is an exclusive trading community venue that combines a journal with a hangout spot for sharing insights. We must admit they have many interesting things to offer. 
Note: When choosing a trading platform, beginners should look for those that are easy to use. Also, they should go for firms that offer plenty of educational materials and research tools.
Analyzing & Reporting
It's time to explore the technical side of things, TraderVue style. Import files, and spice it up with notes and tags – the more data, the better the insights. 
When it's time to examine your trades, this company lets you filter them by symbol, tag, side, duration, or date range. Charts? Of course. Reports? You bet. From profit & loss overviews to risk analyses, Tradervue's got the tools to make your trading life truly straightforward.
Tip: It's also possible to export some trades to other social media sites here. You can do that if you put a checkmark in the "Share trades" part and then click on the right social media site. 
How to Navigate Tradervue
Tradervue journal offers tutorials that simplify trading for the tech-averse. We must say that this is terrific! Importing data from over 70 brokers? Indeed, this trading company has that covered too.
Even if you're more of a text or Excel person, Tradervue's your tech-savvy sidekick. You can join their trading community to share wins and ideas or keep it low-key.
Tip: A risk analysis tool analyzes performance in light of risk. Moreover, their platform will return a chart that shows risk-adjusted performance.
Tradervue Pricing Revealed
Now, let's talk about pricing options here. We can see tradervue.com keeps it straightforward with 3 plans:
Basic or Free:

You can get up to 30 trades per month, basic journaling, reports, and sharing. This option is perfect for the cautious starter.

Silver ($29/month):

We can see that you can test unlimited entries across stocks, futures, forex, and options here. Improved journaling, advanced reports, and sharing. Silver's got the goods.

Gold ($49/month):

The package includes everything from the Silver one, as well as risk and exit analyses. Moreover, you can log those commissions and fees. Sounds great, right?
We see there's a free 7-day trial for Silver and Gold. Even if you're a part-time trader, the free tier covers 100 stock transactions per month. Pretty good! 
Client Reviews – Real Talk from Traders
Are you curious about what traders are saying? Aside from the Tradervue Reddit discussion, we can see that Trustpilot spills the tea with a not-so-great 3.2-star rating for this company. So it might not hit the high notes. It's important to approach online reviews with a healthy dose of skepticism. While ratings are useful, they don't always provide the full picture. Keep in mind that some people may leave a negative review based on a single bad experience.
So, instead of just relying on the star ratings, take a closer look at the comments to see if the company has responded to any concerns raised. Also, go for tools and brokers with 4.5 stars or more. Play it safe; it's your hard-earned money on the line.
Tip: StockCharts company offers a diverse range of charts for traders. These include SharpCharts, StockChartsACP, and Point & Figure charts.
Supported Brokers
Now, you can import trades directly from your broker or trading platform into your Trader Vue account. This truly saves time and effort by avoiding manual input! We can see that this company supports multiple brokers and trading sites. Let's look at some of them!
Ally Invest
Fidelity
TradeZero
Interactive Brokers
Webull
We must agree that there are some respected names on this list. This is a big plus! 
How to Choose the Right Platform?
Choosing the right trading platform is crucial, mainly for newbies! Here's why these platforms matter:
Expertise:

Quality platforms are often run by skilled investors who share tips to help you become a better trader.

Community:

Many platforms have a community of traders who share stories and insights.

Tools:

Safe platforms offer essential tools like charts and graphs to help you understand the markets better. 
Making Money in the Trading Game
Now, let's discuss making money through online trading. It's complex, but we've got your back every step of the way. We offer free consultations, expert advice, and the star of the show – our AI Analysis Bot.
It's not just another tool. This one is your stress-free research companion. No upfront payments are needed. Just try it for free for 20 days. You get 5 detailed FX analysis reports and 5 stock analysis reports monthly. Boost your profits today, without empty promises!
Final Thoughts
Wrapping up this rollercoaster of a review, let's keep it real. While we've explored the ins and outs of this trading company, we can see they provide average services.
Still, your money deserves better than average. Speaking of, have you met our AI Analysis Bot? It's not about glorifying, it's about smart choices. So, in this tricky trading domain, make informed decisions, stay savvy, and let the AI Analysis Bot be your guiding light.
FAQs
Is Tradervue Free?
Yes, Tradervue offers a free tier, and this makes it accessible to all.
What Does Tradervue Do?
Tradervue streamlines your trading with a journal and social platform.
What is Proprietary Trading?
Proprietary trading involves firms trading with their own budgets, seeking profit from market trends.