November 16, 2023
Reading Time:
4
min
Earn2Trade Review: Your Best Guide to Funding Success in Trading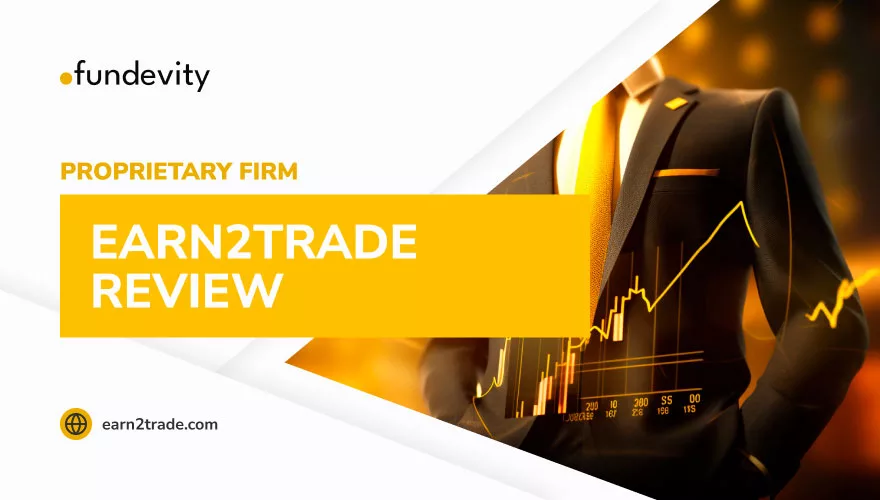 Today, we're diving into Earn2Trade, a prop trading firm that could be your ticket to trading success. If you're wondering whether it's the real deal, stick with us as we spill the beans on everything you need to know! Keep reading our Earn2Trade review and you will discover many interesting facts! 
| | |
| --- | --- |
| | General information |
| Name | Earn2Trade |
| Type of company | Prop Firm |
| Regulation status | Unregulated/Not expected |
| Warnings from Financial Regulators | No official warnings |
| Website link | earn2trade.com |
| Active since | 2015 |
| Registered in | Sheridan, Wyoming, United States |
| Contact info | Data is hidden |
| Trading platforms | NinjaTrader and Finmark Systems |
| Majority of clients are from | Morocco, Spain, United States, Colombia, Argentina |
| Customer support | Telegram, contact form, and live chat |
| Compensation fund | No |
What Sets Earn2Trade Apart?
So, what's the buzz about Earn2Trade? Established in 2017, it was launched by 2 commodity trading advisors and a former college professor. Now, it's in the hands of a team of passionate traders and educators who are committed to helping traders like you succeed.
Now, let's talk about programs. Earn 2 Trade offers two heavyweights – the Trader Career Path (TCP) and the Gauntlet Mini. These are your keys to scoring a funded trading account, with stakes ranging from $50,000 to $400,000. Also, the Earn2Trade login process is relatively straightforward, as their website is easy to use!
The Gauntlet Mini
The Rules
The Gauntlet Mini is a shortcut to the Earn2Trade funded account in only 15 trading days. But there's a catch! Keep in mind you have to play by the rules. After all, you wouldn't trust someone with $400,000 if they hadn't proven their trading chops, right? That's where the rules come in, like a roadmap to reliable and strategic trading.
Take a look at the progression ladder and think of it as your gaming level-up. Trading a $50,000 account? You start with 2 contracts, and as you climb that profit ladder, you can go all the way up to 6 contracts. 
It might sound like a puzzle, but it's crucial to wrap your head around it. And remember, Earn2Trade isn't the only player with these rules.
Counting the Cost
Now, let's talk about cash. The monthly fee depends on the size of the funded account you're watching. It starts at $170 for a $50,000 account and goes up as you set your sights higher. 
But here's the cool part: once you ace the evaluation, you get a funded account. And that's not all! They throw in some extras like a Beginner Crash Course (worth $249), a trading simulator, and a nifty reporting tool called Journalytix.
Trader Career Path
Evaluation Insights
Are you ready to find out more about the Trader Career Path? It kicks off with an evaluation, where you get a $25,000 or $50,000 account with virtual cash. 
You need to trade for at least 15 days during the approved duration and climb that progression scale. It's like gearing up for the trading Olympics!
Consistency is Key
Here's the lowdown on the Consistency Rule. Your daily profit can't hog more than 30% of your total profits and losses. Why is that? 
Earn2Trade Forex prop firm wants to see you consistently winning, not just scoring a lucky homerun. So, steady wins the race!
Note: CTRL FX claims to be regulated by the US Financial Crimes Enforcement Bureau (MSB). However, this is entirely meaningless.
Financial Considerations
Let's talk about money again. The monthly fee for the TCP Evaluation is $150 for the 25k account and $190 for the 50k account. No ongoing membership fees after you ace the evaluation. And guess what? You can hit the reset button anytime for a $100 fee. Just remember, no resetting live-trading accounts, as once you go live, you're in it for the real deal!
Commissions for micro assets range from $0.74 to $1.00 per side, while regular futures contracts come at $2.02 per side. Keep in mind that these commissions come out of your simulated or live-trading account balance.
Earn2Trade Platforms
This firm currently offers two solid trading platforms – Earn2Trade NinjaTrader and Finmark Systems. These platforms are relatively user-friendly and easy to use.
During your subscription, your trades will find a home in the Journalytix tool. It's not just about logging trades but it's about diving deep. You can categorize your trades, evaluate your strategies, and export the data for a closer look in MS Excel. This is quite beneficial if you ask us! 
Earn2Trade Trustpilot Reviews – What the Traders Are Saying
Are you curious about what other traders think? Trustpilot paints a positive picture of this firm, showing an impressive 4.7-star rating. Now that's applause-worthy! 
When choosing tools and brokers, aiming for a 4.5-star rating and above is a solid strategy for a safe trading journey. After all, who doesn't want to follow in the footsteps of satisfied traders?
Note: To our knowledge, DBG Markets is not very active on social media. Still, our educated guess is that they mostly target people in Asia. It's best to avoid this fake company.
Earning Money Through Trading
Now, it's time for the best part. Making money trading? Absolutely! It's a breeze, especially with the right support. We're here to guide you, offering free consultations and expert advice on top-notch trading platforms. 
Also, check out our AI Analysis Bot – your stress-free research tool that provides accurate trading prognoses. The best part? Try it out for free for 20 days! No upfront payments. You will get 5 detailed FX analysis reports and 5 stock analysis reports each month. It's your shortcut to boosting profits effortlessly!
Final Thoughts
As we wrap up our Earn2Trade review, it's crucial to maintain a balanced perspective. While this trading company has its good sides, it's equally essential to consider alternative tools. 
Our AI Analysis Bot, for instance, stands as a robust guide on your trading journey. By checking it out, you truly get many benefits in trading predictions! Always choose wisely, and may your trades be ever in your favor. 
FAQs
Is Earn2Trade Real or Fake?
Earn2Trade is real. It's a legitimate prop trading firm with great opportunities for traders.
How Much Does Earn2Trade Cost?
Gauntlet Mini starts at $170/month, and Trader Career Path at $150/month.
How Do I Withdraw From Earn2Trade?
You can withdraw from here using bank wire and crypto.