July 15, 2023
Reading Time:
5
min
FMASTERS Review: Exercise Caution When Dealing With Unregulated Brokers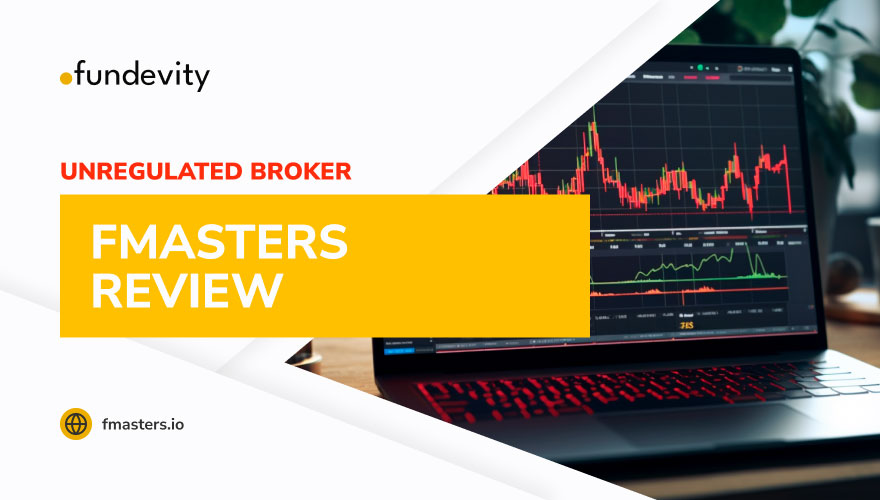 FMASTERS is a broker that allegedly supports numerous trading instruments and tools. This broker, however, lacks valid regulations, which should be noted. It is crucial to exercise caution when dealing with FMASTERS, c, or any broker without regulation.
Regulation plays a vital role in the financial industry. Regulated brokers must adhere to specific standards, maintain transparency, and protect their clients. Is FMASTERS forex broker legit or is it a scam? Stay tuned to discover more details in our FMASTERS review!
FMASTERS: Lack of Legitimacy
When considering investing or trading with a broker, verifying the broker's legitimacy is advisable. Please note that regulatory bodies vary across countries. So, it is crucial to determine the jurisdiction under which a broker falls. 
Make sure the broker has valid licenses from the appropriate authorities. You can determine a broker's regulatory status by checking with reputable financial regulatory bodies. Some of them are the U.S. Securities and Exchange Commission (SEC) and the U.K. Financial Conduct Authority (FCA).
FMarkets is an unregulated broker that does not provide the same protection as regulated brokers. They should have bothered to disclose where their headquarters was located. Before investing, do your research and only invest with trusted, regulated brokers. Make sure to read the terms and conditions carefully before making any decisions.
All in all, it is crucial to exercise caution when dealing with brokers lacking valid regulations, including FMASTERS or CedarFX. Conducting thorough research and verifying a broker's legitimacy can minimize potential risks.
General information
Name:

FMASTERS

Regulation status:

Unregulated Broker

Warnings from Financial Regulators:

No official warnings

Website link:

https://fmasters.io/

Active since

2022

Registered in

n/a

Contact info:
[email protected]

and +442070431886

Trading platforms:

WebTrader

The majority of clients are from:

Australia, New Zealand, Germany, Sweden, and the United Kingdom 

Customer support:

Yes,

Monday to Friday, email and phone

Compensation fund:

No
FMASTERS: Trading Assets Available
FMASTERS forex broker offers an expansive range of trading options. This includes currencies, commodities, stocks, indices, and crypto. They claim to provide:
Major currency pairs (

FMASTERS

Forex),

Metals,

Energies,

Agriculture commodities,

Stocks,

Indices, as well as

Crypto – Speaking of the FMASTERS crypto offerings, this bogus firm offers a limited number of pairs. They are BTC, ETH, LTC, and XRP. 
While fmasters.io offers a vast array of trading instruments, it is critical to note that they are not a regulated broker. As such, investors should be aware of the risks of trading with them. Investors need to practice risk management and diversification when trading with FMASTERS.
Trading Platform: Exercise Caution and Explore Alternatives
We already know that FMASTERS is an unregulated broker. They may claim to offer a top-notch trading platform with advanced tools and features. Yet, the absence of regulation raises concerns about their safety and reliability. 
Traders should exercise caution when considering FMASTERS as their trading platform of choice. Besides, they only offer a simple FMASTERS WebTrader. Due to its web-based nature, there is no need to download and install anything. And that is the only positive thing. 
There are better options out there with more features and better customer support. Thus, traders should consider other alternatives that support platforms like MT4 and MT5. 
Navigating the Trading Environment at FMASTERS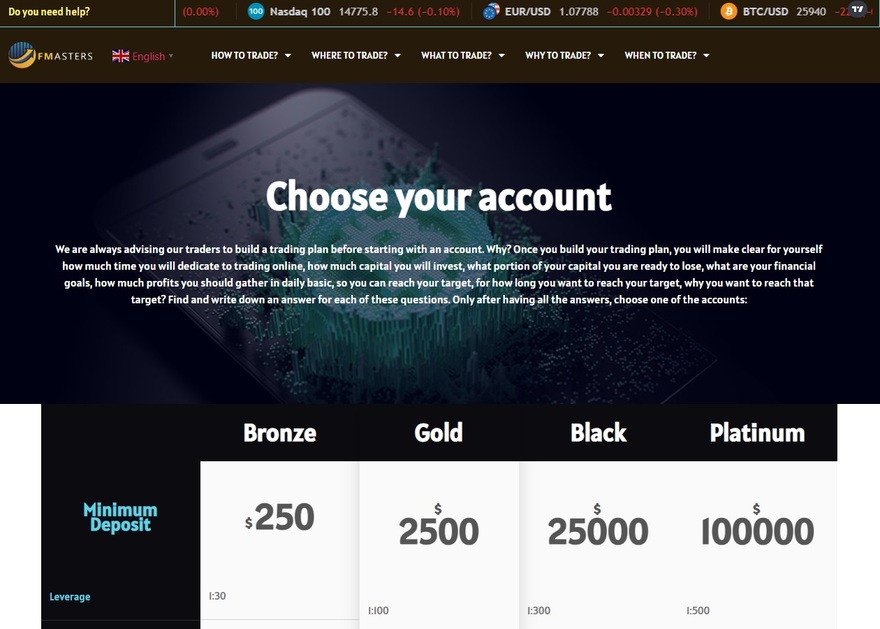 FMASTERS offers different account types with varying minimum deposit requirements. The options include:
Bronze Account: $250

Gold Account: $2,500

Black Account: $25,000

Platinum Account: $100,000
Leverage
Leverage allows traders to amplify their trading positions. FMASTERS provides leverage ratios based on account type. They are as follows: 
Bronze Account: Leverage up to 1:30

Gold Account: Leverage up to 1:100

Black Account: Leverage up to 1:300

Platinum Account: Leverage up to 1:500
Spreads and Commissions
FMASTERS tries to make trading easier with competitive spreads starting at 1.3 pips. Most accounts have no commissions, except the Platinum account with a 2% commission. 
The minimum lot size is 0.01 of a standard lot so that traders can start with smaller positions. You could allegedly set stop loss and take profit orders on your trades to manage risks effectively.
FMASTERS Support Channels
FMASTERS includes support through email, phone, and chat. It tries to ensure traders can get assistance when needed. However, this has no value as this broker is pure deception. 
Note: Before opening an account with FMASTERS, it is essential to conduct thorough research. Also, evaluate the risks associated with trading, and make an informed decision based on your needs.
FMASTERS Payout and More
Here's a summary of their withdrawal policy. Are you ready to take a look at it? Here are some key points to know:
Deposits
You can use a single source, a bank account in your name, and country of residence.

SWIFT confirmation may be required for fund authentication.

Non-compliance with the policy may limit bank transfer deposits.

Dormant accounts (inactive for six months) may be subject to a 10% monthly deduction.
Withdrawals
You can use the same bank account or card used for the initial deposit.

Withdrawals are generally made in the deposit currency unless agreed otherwise.

Extra fees and restrictions apply to alternative payment methods.

Processing and handling fees are deducted from the withdrawal amount.

Withdrawals may be sent to a different facility.

Additional information and documents may be required for withdrawals.
Fees and Bonuses
Transaction fees vary based on the method (wire transfers, credit cards, ePayments).

Accounts with low turnover or lacking verification may have a 10% levy on withdrawals.

Minimum withdrawal amounts depend on the method used.
Bonuses and incentives are generally not available for withdrawal unless explicitly agreed upon.
Note: Please bear in mind that this broker is suspicious and unregulated. Any withdrawals are not likely to happen. 
Trader Reviews
At the time of writing this article, we could not find any FMASTERS reviews on Trustpilot. This lack of reviews raises some concerns and makes it difficult to assess the broker's reputation. Yet, we came across some reviews that appeared overly positive and resembled paid advertisements rather than real feedback. This observation is indeed suspicious and questions the authenticity of those reviews.
When assessing reputation and credibility, you should rely on genuine customer reviews. This goes without saying. Paid advertisements disguised as reviews can mislead. And they may not accurately reflect actual experiences.
Long Story Short –  FMASTERS
FMASTERS is an unregulated broker that offers a diverse range of trading instruments. Nonetheless, their lack of regulation raises concerns about their safety and reliability. The absence of valid regulation means there is no supervision to ensure adherence to industry standards. Unregulated brokers don't care about protecting client interests.
FMASTERS login issues and the fake trading app are concerning. You must use the same bank account or card for deposits and withdrawals, and fees may apply. It is crucial to review the withdrawal policy, including minimum withdrawal amounts and potential fees, as they vary based on the chosen method.
Traders should carefully consider the risks associated with trading on an unregulated platform like FMASTERS or CarbonCapitalFX.
Want a reliable broker on your side? Get in touch with us and we'll show you which brokers are best suited to your needs.
FAQ Section
Is FMASTERS Regulated?
No, they are not regulated. It is wise to avoid this firm.
Is Fmasters.io Safe For Trading?
No, this bogus company is unsafe, and we should try to avoid them.