August 25, 2023
Reading Time:
5
min
Fox Markets Review: Navigating the Terrain of Trading With Fox Markets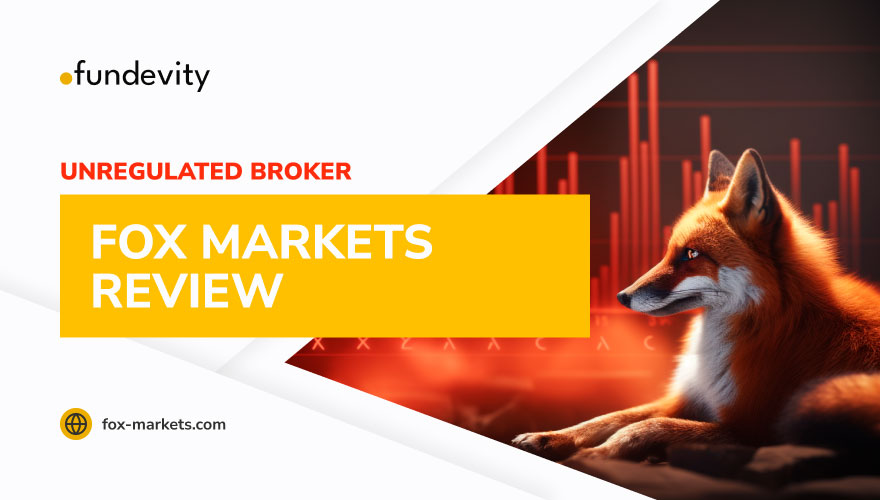 Exploring different brokers often leads investors to a crossroads of curiosity and caution. In this Fox Markets review, we delve into the realm of Fox Markets, a trading entity operating under the banner of Fox Markets Ltd. 
While it claims to provide a diverse array of tradable financial instruments, skepticism looms due to its registration in Saint Vincent and the Grenadines. Join us as we critically examine the legitimacy, trading assets, platforms, trading environment, and more.
Fox Markets Regulation: A Murky Regulatory Terrain
When delving into regulatory legitimacy, Fox Markets certainly triggers skepticism. Unlike brokers under the purview of respected regulatory bodies, Fox Markets should align with the FSCI, an SVG entity with questionable credibility. Strikingly, despite our database search, Fox Markets remained elusive. 
Its offshore base and absence of strict investor protection upheld by esteemed authorities such as CySEC further intensify concerns. To see the reality behind Fox Markets, turn to trader feedback and meticulously examine verified trading forums.
This broker targets individuals in the United States, Germany, the United Kingdom, Canada, and Australia. However, engaging with Fox Markets carries significant financial risk and requires thorough research. People from these countries should be extra careful. 
General information
Name:

Fox Markets Ltd

Regulation status:

Unregulated Offshore Broker

Warnings from Financial Regulators:

No official warnings

Website link:

fox-markets.com

Active since

2020 (2019 for domain age)

Registered in:

St. Vincent and the Grenadines

Contact info:
[email protected], [email protected]
Trading platforms:

MT4, MT5

The majority of clients are from

United States 

Germany 

United Kingdom

Canada 

Australia

Customer support:

Yes 24/7 (

[email protected]

and [email protected])
Compensation fund:

No
Exploring Fox Markets' Trading Assets
Fox Markets presents itself as a gateway to a plethora of trading assets, offering access to five distinct categories within financial markets. These include cryptocurrencies, forex, indices, commodities, and metals. While this lineup may seem promising, skepticism remains. 
Cryptocurrencies take center stage. But, Fox Markets' ability to deliver seamless execution raises questions that demand a thorough investigation. Avoid brokers with offshore regulation like Fox Markts and those with no regulation at all like Tradingexpo. 
Fox Markets Platform: A Closer Look at the Smoke and Mirrors
Unveiling Fox Markets platform reveals a robust structure catering to traders. The cornerstone is MetaTrader4 (MT4), a widely-used platform optimized for various devices. 
Curiously, MetaTrader5 (MT5) is accessible only upon request, raising suspicions. Both experienced and novice traders are advised to tread cautiously while navigating MT4 or MT5. These platforms, while honored, bear the burden of scrutiny, considering the shadow of doubt surrounding Fox Markets.
Trading Environment: Fox Markets Account Types
Fox Markets offers a variety of live trading accounts, including Standard and STP options. Alongside that accounts, they offer demo and customized accounts. 
Yet, specific information on the Fox Market's minimum deposit requirements remains unknown. As novices explore the demo account, experienced traders can harness the power of the STP plan. Besides, custom plans may cater to seasoned traders. But, none of these accounts are safe after all. 
Leverage
Fox Markets lures traders with a leverage ratio of up to 1:400, surpassing the standards set by most brokers. 
Yet, careful risk management is essential, as leverage boosts both gains and losses. Novices are advised to approach leverage with caution to mitigate potential pitfalls.
Demo Account: A Risk-Free Launchpad for Traders
Irrespective of experience level, Fox Markets provides a risk-free Forex demo account. This platform is an ideal springboard for both novices and seasoned traders to acclimate to the Fox Markets environment. 
It grants full access to the trading platforms, fostering skill development. But, keep in mind this broker is unregulated. Choose the ones that are safe and regulated.
Note: Fox Markets enables traders to explore automated trading. With this tool, trades could capitalize on efficiency and precision. In the case of an unregulated broker, that can hardly happen. 
Fox Markets Fees 
Fox Markets claims market spreads for both Standard and STP accounts. Yet, exact values remain undisclosed. 
Commission-wise, the Standard account entails a $10 fee, while the STP account charges $5. These details significantly impact traders' profitability, warranting careful consideration.
Education and Knowledge
Fox Markets surprisingly acknowledges the importance of education. It fosters competence and confidence in traders by spreading knowledge. Yet, remember that they are not reliable since they are not regulated. 
Fox Markets does not have the necessary authorization to operate as an FX broker. They also do not guarantee the security of traders' funds. As such, it is not advisable to invest with Fox Markets. 
Fox Markets Withdrawals and Deposits
Fox Markets offers a range of deposit and withdrawal methods. Some of them include bank transfers, credit/debit cards, Sofort, wire transfers, Bitcoin, AdvCash, and Skrill. The broker's transparency in payment options provides flexibility for traders. The transparency extended by their Master Trader Service and Affiliate Program is quite nice. 
Fox Markets also offers a variety of trading tools and analysis services, including currency converters, charting software, and market news. 
All of this is pretty outstanding. However, this broker lacks proper regulation and should be avoided.
Customer Support: Seeking Assistance
Fox Markets offers customer support through live chat and email at [email protected] or [email protected]. Also, it maintains a presence on social media platforms like Meta and Instagram. 
But, the absence of direct contact information such as phone numbers raises questions about accessibility. This lack of direct contact info means customers may struggle to get timely answers to their queries. While social media channels are convenient and easy to use, they can be unreliable sources.
Trader Reviews: Trustpilot Feedback
Traders' experiences provide valuable insights into a broker's performance. Trustpilot reviews for fox-markets.com reveal a mixed sentiment. They got an average TrustScore of 3.4 out of 5. 
While 62% of reviews are 5-star, 38% rate the broker with 1-star, indicating a divided opinion among traders. Overall, the mixed reviews show that some traders are satisfied with fox-markets.com while others are not. It is important to do your research before deciding to open a trading account with this broker.
Remember: Stay safe with your money by not using unregulated brokers like Fox Markets and CapitalProTrade.
Protecting Yourself from Deceptive Techniques
Protecting yourself against scam brokers requires a keen awareness of their crafty tactics. Beware of the temptation of extraordinary profits that appear too good to be true. Always stay skeptical of their vague claims about regulatory compliance. Also, beware of pressure tactics that push you into making hasty investments.
Choosing a Forex broker should always be based on thorough research. Keep in mind, if an offer seems exceptionally appealing, it's likely a trap set to entice you. To protect yourself from these perilous strategies, arm yourself with knowledge and vigilance.
Long Story Short – Fox Markets
After all, Fox Markets presents itself as a broker with many trading assets and platforms, catering to traders' needs. Yet, concerns about its offshore jurisdiction raise questions about its legitimacy. Remember that trading with Fox Markets requires thorough research before engaging. 
As always, stay informed, practice risk management, and make smart trading decisions. It is advised to choose brokers that are regulated by a reputable financial authority. 
This adds an extra layer of protection for traders' funds. It is also important to research a company's background and verify its reputation before entrusting your funds to them. Brokers with no regulation better be avoided. 
Also, avoid regulated brokers with revoked status like Rui Win Capital. Ultimately, it is up to the trader to make an informed decision about whether to use Fox Markets. Feel free to contact us for help in finding the right broker. Book a free consultation today!
FAQ Section
Is Fox Markets Legit?
No. This FX broker lacks regulation and should be avoided.
Does Fox Markets Offer a Demo Account?
Yes, this shady broker allegedly offers a demo account.
Is It Safe To Trade With Fox Markets?
No. Your money is not safe with this unregulated FX broker.