November 19, 2023
Reading Time:
4
min
My Trading Journal Review: A Closer Look at Features and Benefits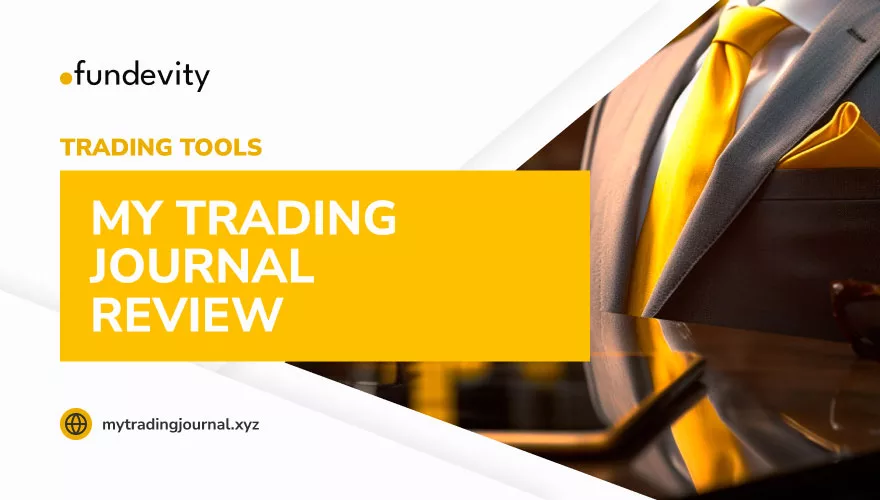 Starting a day trading journey can be quite challenging. We know that tracking every single move becomes a daunting task. In this My Trading Journal review, we're talking about a tool crafted to simplify your trading adventure. 
Packed with features great for traders and investors, this application claims to be a game-changer. Together, let's explore whether it lives up to the hype. We'll discover if it's the missing piece you've been searching for in your trading toolkit. Let the journey begin!
| | |
| --- | --- |
| | General information |
| Name | My Trading Journal |
| Type of company | Trading Tool |
| Regulation status | Unregulated/Not expected |
| Warnings from Financial Regulators | No official warnings |
| Website link | https://mytradingjournal.xyz/ |
| Active since | 2021 |
| Registered in | n/a |
| Contact info | Data is hidden |
| Trading platforms | Meta Trader 5, Trading View, ThinkOrSwim |
| Majority of clients are from | United States, Peru, Colombia, Chile, Canada |
| Customer support | n/a |
| Compensation fund | No |
My Trading Journal – The Basics
It goes without saying that day trading requires discipline, organization, and planning. We all know this!
The brain behind My Trading Journal, Sean Mayes, recognized this need. So, he set out to develop a solution. This app, born out of personal necessity, has evolved into a comprehensive diary of trades and notes.
One guy, once a software engineer and now a full-time day trader, started with a mess of thoughts, notes, and too many documents. Wanting something simple and efficient, he created this firm. Now, it's his handy tool for day trading.
Note: Shrimpy.io is a firm that operates safely, with access limited to executing trades via the exchange API.
Features Here
Managing trades across multiple brokers can be a real headache. Still, this firm says they put all your trades in one place. They provide a summary of statistics from the beginning of your trading career. 
Still, it doesn't stop at trades. We see that the application easily integrates research, offering a holistic view of stock analyses aligned with your trades.
Note: SmartTrader.com stands out as a good charting and analysis platform for different trading domains. You can check out more about them! 
Ticker-Centric Approach
Efficiency is key in day trading, and My Trading Journal excels in providing a streamlined approach. The ticker-centric feature lets you enter a ticker or click on a trade to view all associated trades and analyses. 
With a click, you open your favorite research websites loaded with the selected ticker's information.
Trading Details at Your Fingertips
Adding trades on the go is crucial for day traders. My Trading Journal makes it easy with a risk/reward calculator, entry and exit comments, and immediate profit and percentage gain insights. 
The application also supports importing trades from your broker, ensuring seamless integration with your existing trading activities.
In-Depth Statistics and Analysis
Beyond the thrill of individual trades, My Trading Journal encourages a broad view of your trading journey. 
The statistics feature allows users to analyze progress over different time frames and filter results by trade type or broker. The emphasis on maintaining a consistent percentage gain and cutting losses quickly adds a strategic dimension to your trading approach.
Strategy Creation and Smart Notes
This company helps users to create and link their strategies directly to trades. The platform facilitates strategy analysis and refinement. It even exports results to Excel for further checking. 
Smart Notes offer an organized way to jot down quick notes, set alerts, build watchlists, and categorize information. We can see they ensure a clutter-free trading environment.
Information Access
Keep in mind that staying informed is crucial in the dynamic world of day trading. This innovative tool provides one-click access to favorite news, SEC, or research sites. 
With 9 live web-views, users can easily monitor events as they unfold, staying ahead of the curve.
Broker Support and Settings
This company supports multiple brokers. Namely, it offers both direct transaction statement import and a Generic Broker import tool. 
The application's settings allow users to import trades, change time zones, and much more. Quick links to FAQs and essential documents provide extra support. Still, we didn't like the fact they lacked support means like email or phone. 
Pricing Details
So, what are the prices here? Mytradingjournal.xyz comes with a subscription fee of $4.99 per month, with a 7-day free trial available on the App Store. It's important to note this cost as you evaluate everything for your trading needs. 
Note that during this trial, subscribers have the freedom to cancel at any point within the initial 7 days. Canceling is a straightforward process as you can refer to the "How do I cancel my subscription" section for clear instructions. If the subscription is not canceled within the trial window, it transitions into a full subscription. Remember that.
Disclaimer and User Guides
It's essential to note the application's limitations. My Trading Journal day trading tool is designed for trading stocks (long and short) and does not support options trading. Some people may see this as a drawback. 
Also, the platform highlights that it is not a financial institution or advisor. They mention they only serve as a tool for user data organization.
For those diving into this company, user guides on features, support, and security are available. Also, we see the guides cover Smart Notes, Statistics, Risk/Reward Calculator, Trader Checklist, and more. This truly helps users make the most of the application's capabilities.
My Trading Journal Reviews on Trustpilot
On Trustpilot, there are no reviews for this company. It's a bit concerning because we can't see what other traders think.
When picking tools and brokers, it's smart to go for ones with 4.5 stars or more for safety. Always keep this in mind!
Making Money Online Trading
Are you ready to make money online? If so, great! Making money from online trading is easy now. We're here to help you at every step! 
Get free advice on the top trading platforms and meet our AI Analysis Bot. This is your simple tool for trading predictions. Try it for free for 20 days! Explore five FX analysis reports and five stock analysis reports each month. It's a simple way to boost your profits, so give it a try today!
Conclusion
When it comes to day trading tools, My Trading Journal stands out as a user-friendly, feature-rich guide. The iOS app is highly rated and many users love the platform. 
In the big world of trading, consider better options like our AI Analysis Bot for a strong and trustworthy trading guide. Make smart choices and always tend to learn more! 
FAQs
What is My Trading Journal?
This is a tool for day traders, organizing trades, notes, and strategies for an efficient experience.
Is My Trading Journal Good for Day Trading?
Yes, the firm offers a user-friendly interface and practical tools for organized, informed trading.
What is Proprietary Trading?
Proprietary trading is direct trading using an entity's own funds, often used by financial institutions for profits.